J2Ski Snow Report 5th January 2017
Hello and welcome to our first weekly round-up of 2017!
The drought breaks in Europe - and still more snow in America.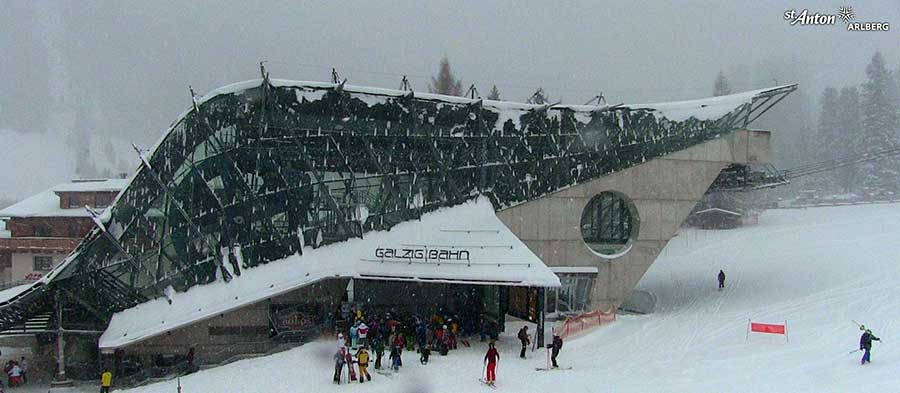 St.Anton, Austria this morning
This Week's Snow Headlines
- The start of significant snowfall in the Alps at last.
- Temperatures drop to -30C or colder in parts of Canada and Scandinavia.
- Still more huge snowfalls for North America, Mammoth reports nearly 4ft of snow in 24 hrs.
- More snow in Austria, up to 25cm so far and much more forecast.
- Up to 40cm of fresh snow in parts of Eastern Europe.
- Mt Baker first to pass 4m base depth marker.
A long-awaited change in the weather in the Alps has brought the beginnings of what forecasters are expecting to be significant snowfall over the next days (and they think probably weeks). The snow has already started falling on Tuesday and Wednesday on the Eastern side of the Alps at ski areas in places like the Czech and Slovak Republics (where up to 50cm has been recorded) and in Parts of southern Germany and Austria.
France and Switzerland should see significant snow over the coming 48 hours and some forecasters are pointing to the snow continuing to fall for a week or more. If correct this will dramatically change things after nearly two months with little or no snow following early heavy snowfalls back at the start of November last year.
Across the Atlantic the snow has continued to come down big time with one ski area on the Pacific coast claiming a snowfall of nearly 1.2m/4 feet in 24 hours, another the first to pass the 4m base depth this season and yet another approaching 7m of snowfall this season too. The snow continues to fall on East and west coasts whilst in the North the temperatures have dropped to -30C in places.
Elsewhere, Scottish ski centres remain closed due to lack of snow cover, Scandinavian areas have had fresh snow and the Pyrenees could do with some.
In the Forecast
Many Austrian and Swiss areas will see good snowfall today (Thursday) and further lighter falls into the weekend. Austria, in particular, is going to see very cold temperatures for the next few days to be followed by (from the current forecasts) a succession of bands of snow through to mid-month.
The current weather is pushing down from the North so is favouring the Swiss and Austrian Alps and the Northern half of the French Alps for now. It's unclear exactly how far South the main falls will extend but light snow, at least, should reach the main resorts of the Espace Killy and the Three Valleys.
From the beginning of next week, a series of snowfalls should sweep much of The Alps with some very heavy potential falls for Tuesday and Wednesday in parts. Exact quantities and locations will change but this should bring significant snow!
A wee word of caution!
Heavy snow onto an old base is going to mean some very unstable off-piste snowpack and there will be some large avalanches over the next few days. Check local advice and risk levels
before
leaving the piste and make conservative route choices! Piste conditions will be fabulous in the affected areas anyway, so have fun and stay safe...
Going Skiiing? Please upload a Photo Snow Report!
If you're in the mountains, please show us the snow! Check
Snow Reports from Ski Resorts
for a quick and easy way to upload pictures, straight from your phone.
Find a Ski Buddy or Group
You can now easily share your plans, and find others going to the same ski area. See
Recent Ski Chat
and follow the
Who's Skiing Where, When
link.
Re-publication :- our Snow Report Summary, being the text above this line, is free to re-publish, but must be clearly credited to www.J2ski.com with text including "J2Ski Snow Report" linked to this page - thank you.
The Alps
Austria
Austria is the first of the big four Alpine ski nations to see the fresh snow rolling in at last. The
Arlberg
,
Zil
ler Valley,
Kaprun
and the
Kitzsteinhorn
and Solden have seen the biggest snow accumulations so far of the country's major resorts (20-25cm) after the snow started falling on Tuesday. The snow is expected to continue today and forecasters are expecting at least as much again or more over the next 72 hours and possibly much bigger falls over the coming week or so, although those longer term forecasts are always tricky to be sure about.
France
French resorts have, on the whole, weathered the dry December better than most thanks in part to the altitude of their purpose build centres – a few of the lower, traditional resorts have not done well. Resorts like Montgenevre and Val Thorens have good snow bases in resort and snow lying more than 2m deep up high. So far there's only been a dusting of fresh snow from the forecast snow storm that has already arrived in the East of Europe but more snow is expected in the next 72 hours in the northern French Alps at least and again, potentially, double this over the next 8-10 days if long term forecasts play out as some expect. The forecasts of 50-60cm of snow for resorts with little cover at present like Megeve and
Morzine
are particularly welcome, now we just need them to come true.
Italy
The biggest snowfalls appear to be passing a little to the north of Italy, but at least the Dolomites, which have had little snow all season or pre-season and are almost totally reliant on snowmaking are expected to see 30-60cm of snow. That's particularly good news at resorts like Alta Badia which have been posting 0-10cm snow depths through December. Currently the areas in the West of the country that have got healthy bases around the 2m mark and in some cases were among the few to see some good snowfalls just before Christmas are not expected to get much fresh from the new snow storm system.
Switzerland
Switzerland should see more snowfalls from the current storm system, and there has been some already with 13cm (5 inches) at
Arosa
and an inch more (15cm) at
Engelberg
but 20-40cm snowfalls across much of the country is forecast for the next few days and again more optimistic long term forecasts say many Swiss areas may get a metre or more snow by this time next week. As cover is zero in some Swiss resorts and thin at resort level on the slopes and in many cases only 30-60cm up top, a good snowfall would be very welcome. In the meantime what cover there is has still been adequate for most Swiss resorts to have most runs open.
Scandinavia
There has been some significant snowfall in Scandinavia since New Year but you need to look north to find it. Up near the arctic Circle resorts like
Narvik
in Norway have had 30cm of new snow, Harpefossen and
Stranda
20cm. Further south at some of the big name resorts in the region like
Hemsedal
and Are more fresh snow would be welcome – they've just had a dusting so far, and bases are in the 30-60cm bracket. Temperatures are double digit below zero though so what's there isn't going anywhere and snowmaking can top up cover.
Pyrenees
There's been very little fresh snow in the Pyrenees for two months now and there's no real sign that's likely to change in the next week – although longer term forecasts suggest they might in a week's time, but that's too far away to be sure. On the plus side temperatures are generally hovering at or below freezing so what snow fell back in early November is still there and topped up by snowmaking. Sierra Nevada down on the south coast of Spain continues to post the best snow base stats for the region at 1.5m.
Eastern Europe
Eastern Europe was the place to be skiing fresh snow earlier this week as the snowfall that is now reaching most of central Europe started here first bringing new snow to resorts across the region. The Slovak and Czech republics have fared particularly well with snowfall continuing and expected to amount to 30-40cm of fresh at many areas by the end of Wednesday 4th.
Harrachov
in the Czech Republic may get as much as 50cm. Snow is expected at Bulgarian areas later this week after flurries through the past 48 hours, there may be as much as 40cm by Saturday morning so powder conditions fort the weekend, hopefully.
Scotland
Another challenging week for ski areas in Scotland. The gales have been a little less violent, the temperature fluctuations a little less extreme and there has been a few centimetres of snow against a few days of thawing but still there's not been enough good news to outweigh the bad for snow cover. Cairngorm and
Glencoe
did both manage a few days of opening very limited terrain last week but a thaw melted what there was for that and currently all five areas are closed with no obvious signs of an imminent change.
North America
Canada
It has been a snowy week in Canada but also an increasingly cold one with temperatures dropping well below -20C at times in Alberta and BC.
Whistler Blackcomb
has posted the biggest snowfall of the past week with more than half a metre base and is snow sitting on a 2m base.
Revelstoke
had just a few centimetres less new snow, has a 2.1m/7 foot base and is approaching 7m for its seasonal-snowfall-to-date stat, possible the greatest in the world so far this season. The snow has been falling on the East of Canada again too though with Mont
Sutton
in Quebec among those waking up on New Year's day with 15cm/6 inches of fresh powder. So conditions are great across pretty much the whole country.
USA
As with Canada, so the US has seen more significant snowfalls and again it's the pacific northwest corner that is doing especially well, but it is also the case that most other areas, including the East Coast, are seeing ongoing good conditions and fresh snowfalls.
Mt Baker – often the resort posting the most snowfall anywhere in the world each season – has now topped the 4m base depth, the deepest in the world, after another 20cm of fresh snow took it up to 409cm up top. Of the international resorts,
Jackson Hole
has scored another half metre in the last week taking its base to 2.2m, the deepest of the big name destinations. The big snowfalls show no signs of ending and Mammoth recently reported 46 inches/117cm of fresh snow in 24 hours with the snow still falling. Colorado and Utah base depths are a little less impressive around the 1m mark at most (81cm Vail, 104cm Aspen etc) but most areas are getting fresh snow flow too – Crested Butte (CO) and
Solitude
(UT) both posting 20cm-in-24 hours reports at the start of the week for example.