As we head toward Easter, it's warm in the valleys but there's still snow coming up high.
Top 100 Snowiest Ski Areas Worldwide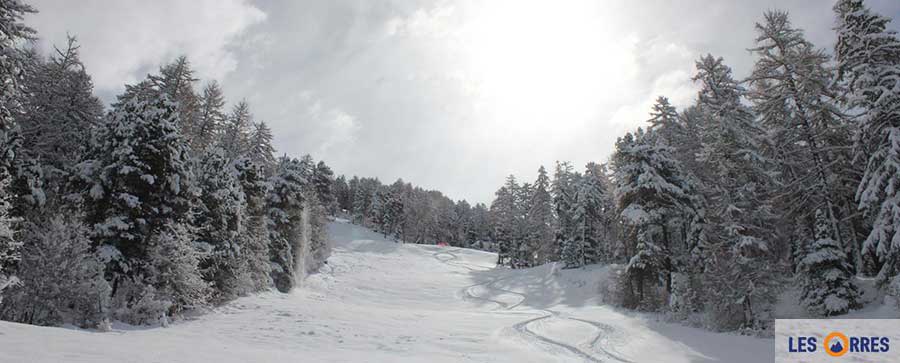 Yes, it melts quickly down low, but it was still falling in Les Orres - France this week
This Week's Snow Headlines
- Up to 1.4m of fresh snow reported in Western Italian Alps.
- Mt Baker nears 20m of snowfall season-to-date, believed to be most in the world.
- Snowy weekend in the Pyrenees brings up to 50cm of fresh snow.
- More than a metre of snow in southern Colorado.
- Up to 60cm/two feet of fresh snow over the weekend in the French Alps.
The Spring feeling that has been dominant in the Alps for most of March (and indeed February) was interrupted, at least on the western side of the mountains, by a return to winter over the weekend which saw some higher slopes receiving up to 1.4m of fresh snow over three to four days. The sun is out again now and it's freeze/thaw conditions, with temperatures mostly above freezing below 1500m, and generally below freezing above.
It's the start of April this weekend and that means the beginning of the end of the season for the majority of Northern Hemisphere ski areas. For some in the South East of central Europe's mountains it seems that end can't come soon enough as they struggle to stay open, for others, further west, it has been at least an average and even in a few cases a good snowfall winter.
The past week has also seen some fresh snow in the Pyrenees with up to 50cm of new snow reported on the French side, and it has also kept snowing in parts of Western Norway - the snowiest part of Europe in March. Across the Atlantic there's been snowier weather again on the western side of the continent.
In the Forecast
Spring continues to develop in The Alps, with a less snowy week ahead forecast - with plenty of sunshine. That said, there will be some scattered snowfall but with a snow line generally around 2,000 metres.
With substantial bases still at altitude, despite the thaw lower down, higher resorts are generally in great late-season condition.
Going Skiing? Please upload a Photo Snow Report!
If you're in the mountains, please show us the snow! Check
Snow Reports from Ski Resorts
for a quick and easy way to upload pictures, straight from your phone.
Re-publication :- our Snow Report Summary, being the text above this line, is free to re-publish, but must be clearly credited to www.J2ski.com with text including "J2Ski Snow Report" linked to this page - thank you.
The Alps
Austria
Despite hopes of snowfall last weekend, little or no snowfall has been reported across Austrian ski slopes for the past week and instead temperatures have been reaching double digits above zero at low lying resorts like Kitzbuhel, so that's not a winning combination for maintaining snows depths. But then it is the start of spring and many Austrian resorts are among the first of the big name centres to start to close for the season, in the first half of April, so there's not much time left. Set against that Austria also has more glacier ski areas than any other and base depths on the slopes at resorts aiming to stay open to May, June, July or beyond are pretty healthy at 2-3m on upper runs. St Anton, which stays open to the start of May, has a good 50-200cm base,
Ischgl
, which does likewise, is reporting zero at resort level, 110cm up top. There's little snow expected in Austria in the coming week.
France
Sunshine is the order of the day across French ski areas at present after a snowy weekend which saw skiers and boarders in resort enjoying some fresh powder at the start of the week. This being the start of spring the freezing point continues to move up the mountainside but above around 1500m it has been staying close to or below freezing meaning that lower traditional resorts are getting sticky in resort although higher up it has been much better. The weekend snow fall totals were typically 20-40cm although some resorts reported as much as 60cm (two feet) of fresh snow (Espace Killy). There was 50cm+ at Val Cenis (celebrating its 50th birthday),
Vars
and
Risoul
and Bonneval – which also reports the deepest base in France at 3.1m (10 feet). Generally slope depths remain good as we enter what is, for most, the last month of the season. The vast majority of French resorts have more than 1m of snow on upper slopes, many double that. In resort most have 40cm or more with Montgenevre posting the most impressive base at 1.5-2.5m.
Italy
Resorts on the western side of northern Italy – which have reported perhaps the most snowfall in winter in the Alps - continued their snowy season with up to 144cm (nearly five feet) of snow reported over the weekend (at
Macugnaga
). Other resorts in the area claimed 30cm (Milky Way) to 90cm (
Monterosa
) in the same period. The fact that the snow was best up top was reflected in the stats from Macugnaga though showing it still only has a 20cm base at resort level despite getting all that snow. Its base is however 2.4m at the top of the slopes. Again following the season-long pattern there was by contract little-to-no snow in the Dolomites, with Cortina posting the best accumulation there – 10cm. Bases here remain thin (5-30cm in Alta Badia) as they have all season with 2-5 weeks of 2016-127 left. Some more snow is expected in the West over the coming week, little or nothing in the Dolomites.
Switzerland
Western Swiss resorts too have seen some big snowfalls with
Andermatt
's 1.2m (4 feet) of snow over the weekend the biggest reported. It's 3.8m (nearly 13 foot) base is now the second biggest for a major resort in Switzerland and Europe behind
Gstaad
which has a metre more at 4.8m on its upper slopes. The Jungfrau,
Engelberg
,
Leysin
and
Zermatt
reported 20-30cm of new snow and Saas Fee 70cm, but the other areas reporting snow were mostly in the 5-10cm bracket and two thirds of Switzerland's leading areas didn't report any new snow. Lenzerheide, with 0-60cm of cover, has the thinnest base of the big name centres. Some more snow may fall in the next week but for most areas not much.
Scotland
Scottish ski areas did receive a few inches of fresh snow late last week but that was followed by three straight days when temperatures in the valleys got up to double figures. So
Glenshee
and
The Lecht
remain closed for snowsports as they have for much of the season; Nevis Range and Cairngorm each have a handful of their 35 runs open with thin cover on upper runs and
Glencoe
has half of its 20 runs available.
Pyrenees
The French Pyrenees posted some impressive snowfall figures over the weekend with several areas reporting 20-30cm of new snow for two days running. There was less new snow (10-30cm) in Andorra except at Soldeu which says it has had 80cm of fresh snow since last week. Bases are slowly diminishing though but remain fairly healthy at 1-2m. There may be similar snowfalls in the week ahead if forecasts are correct.
Scandinavia
Western and northern Norway continues to see copious fresh snow with up to 60cm in the past few days at some areas,
Voss
reporting 29cm and the best base of the bigger areas in Scandinavia at 1-1.9m. Other centres typically have 70-130cm bases and haven't reported much fresh snow. Are in Sweden (75cm) base reported 25cm of snow though, whilst the big resorts in Finnish Lapland just got 3-6cm more.
Eastern Europe
There have been a few centimetres of fresh snow in Bulgaria and there's more in the forecast.
Bansko
and
Borovets
continue to look good with 1-1.5m of snow lying, the base seems to be thinning fast though at
Pamporovo
with 30-50cm. Elsewhere Jasna has 20-40cm of snow and Kranjska Gora in Slovenia appears to have called it a day on the 2016-17 season and closed for the season.
North America
Canada
Another fairly snowy week in Canada with resorts in the west of the country reporting 30-75cm of new snow (the biggest fall at Whistler) and in the east up to 30cm – at Mont Ste Anne. Bases remain good right across the country – generally in the region of 150-350cm, with only Tremblant in Quebec and Mount Norquay in
Banff
just below the metre mark. Mont Ste Anne has suddenly dramatically reduced their 4m+ 'deepest base in Canada' claim they've had for the past few months to a more feasible 1.4m so there has either been a cataclysmic thaw or someone has noticed they've been typing the wrong numbers in. Whistler's 345cm upper base is now the country's deepest.
USA
The season is looking snowy to the end in Western North America where
Telluride
has had more than a metre of snow and most other Colorado resorts 30-60cm of snow. In Utah it has been closer to 60-90cm. Further west there's been loess snow in California but the bases here are still reported at 6m+ (Squaw Valley) and 8m+ (Mammoth), the deepest in the world, although Mt Baker to the north in Washington State says it has overtaken Mammoth, after a snowier March than further south, in terms of seasonal snowfall and has now passed the 19m mark. A few inches more fresh snow in the East too where bases are in the 60-120cm area so should be good to see out the season.