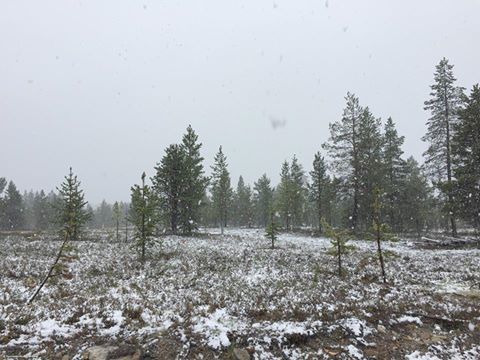 The Finnish resort of Saariselka has reported fresh snow this morning, the official start of summer.
A spokesperson for the resort said, "it's a typical Lappish summer."
Saariselka re-opened for three days of skiing at the start of June, after being closed since the end of the 16-17 season for barely a month, following heavy snow on top of a still deep base, however no fresh plans to re-open have been announced as yet following this morning's dusting.
There's less good news closer to home where Scottish ski area
Glencoe
traditionally holds a 'summer ski day' on the first Saturday of summer. Enthusiasts take a ski lift ride up to ski or board down the biggest snow patch surviving from the winter. However last winter was so poor for snowfall and this spring so warm there's no snow patch left worth skiing on.
"Unfortunately after the very poor winter … for the first time in many years there will be no midsummer ski at Glencoe," a resort spokesperson has confirmed.
For the best skiing at the start of summer 2017 skiers and boarders need to quickly get down to South America where up to 60cm/2 feet of snow has fallen this week.
This image is from the resort of
Antillanca
in Chile earlier today.