J2Ski Snow Report 1st August 2019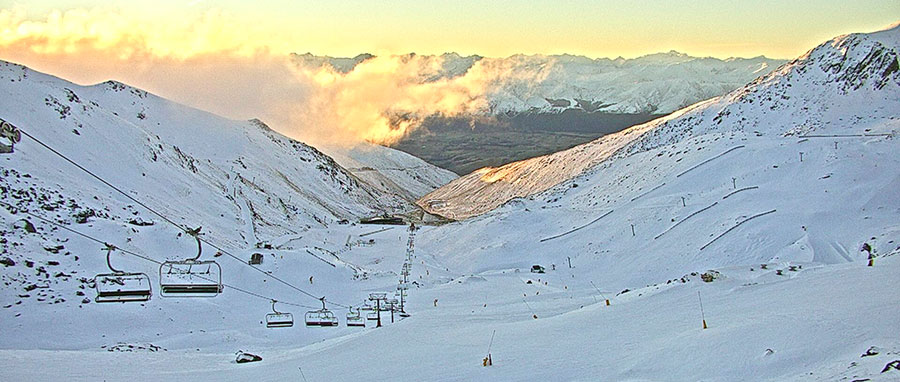 The Remarkables, New Zealand, had snow this week...
Welcome to our guide to where to ski this August !
This Week's Snow Headlines - 1st August 2019
- No August skiing in Scandinavia after glacier areas end season early.
- Heavy July snow in Argentina claimed to be most for 20 years brings 60cm in 48 hours.
- Number of ski areas open north of equator drops to single figures as heat closes slopes.
- Deepest base in southern hemisphere reaches 2 metre mark.
- First of southern hemisphere ski areas to complete 2019 season will do so by end of month.
-
Mammoth Mountain
clocks up 261 day 18-19 ski season but doesn't quite make it to August.
The start of August marks the last full month of winter in the southern hemisphere and the end of summer north of the equator. It can also be one of the hottest months on glaciers in the Alps and the coldest and snowiest in mountains in Australia, New Zealand, Southern Africa and South America where it's the last full month of the ski season.
2019 is not looking much different to other years so far. If anything it has been a little hotter than usual in Europe and north America over the latter half of July. Indeed record high temperatures were reached day and night above 3000 metres in the French Alps leading
Tignes
to close early.
Over in North America Mammoth Mountain also closed a little earlier than planned and didn't quite make it in to August as it had hoped, but it's not really much warmer than usual there; it's simply very warm.
South of the equator it has been a mixed picture with Australian ski areas having a fairly consistently good winter so far with some significant snowfalls building bases and cold weather in between. New Zealand has had a more problematic first half of winter 2019 however with less snow and some warm, wet weather at times, but the start of August sees an improving picture here with more consistent, recent snowfalls.
Over in South America, unusually Argentina is having a better start to the 2019 season than Chile. In fact some ski areas are close together on each side of the border in the Andes but ski areas in the east and south seem to be seeing the best of the snow and in Argentina one area has reached a 2 metre base (although it is now publishing 1.7 metres so it appears to have since dropped again!), the first in the southern hemisphere top do so this year.
Finally in Southern Africa, where the three month ski season is already two-thirds over, late July saw several good natural snowfalls (which aren't common here), which, combined with snow-making, means the two commercial ski fields in the region should be operating at capacity for the final 3-4 weeks of the season, to the last weekend of August.
In the Alpine Forecast
The next week or so should be largely settled across the Alps, with generally clear weather and temperatures around - or a little above - seasonal averages.
In the northern Alps, a period of stormy weather could follow with heavy rain (and snow at high altitudes).

More snowfall expected for New Zealand
.
Re-publication :- our Snow Report Summary, being the text above this line, is free to re-publish, but must be clearly credited to www.J2ski.com with text including "J2Ski Snow Report" linked to this page - thank you.
EUROPEAN ALPS
As mentioned above it's been hot in the high French alps with record July temperatures set, day and night, above 3000 metres in July. Daytime temps up on the glaciers hit 19C and even at 3am, when temperatures need to be below zero for snow conditions to be maintained and to stop glacier thawing, it was as high as +9C.
As a result of the heat Tignes closed for snowsports on the last Sunday of July, a week earlier than planned. Les 2 Alpes, which claims Europe's largest skiable glacier, is still open and aims to stay open through to the start of September, but in recent years it too has closed temporarily and/or ended its summer ski season early because it has been too hot, and it is a little difficult to see how summer 2019 can be different unless there's a big change in the weather in August and its suddenly unseasonably cool.
Tignes, where the lift company said it was concerned that crevasses could open up in the glacier below the remaining snow, says it will re-open for the last weekend of September, all being well.
Six other areas are open in the Alps – two each for Austria, Italy and Switzerland.
Austria
In Austria it's the country's year-round centre of
Hintertux
and the nearly year-round Molltal glacier that are skiable in August.
Hintertux reports the biggest area open but worryingly its snow depth has dropped below a metre so hopefully it will make it through until the snow starts to fall again in the autumn. Molltal says it's snow is much deeper at over two metres. Only a few miles of slopes are open here.
Italy
Cervinia's summer skiing on Plateau Rosa is in good shape for the time of year thanks in part to good winter and spring snowfalls building the base there. Passo Stelvio claims the deepest snow in the world at present at over 3 metres and reports all runs open.
Switzerland
Europe's highest slopes, above
Zermatt
, are open. They were closed for part of the final weekend of July by stormy weather, but on the upside that managed to bring a little fresh snowfall between heatwaves.
The nearby glacier ski slopes at Saas Fee also re-opened last month for the start of the nine month season there through to April next year.
Scandinavia
Unfortunately the heat has got the better of the summer ski areas in Scandinavia with the two Norwegian centres that had planned to stay open through to September, instead closing in the latter half of last month. Both
Folgefonn
(The "Fonna Glacier") and the region's highest ski area at Galdhopiggen decided it to call it a day on their 2019 seasons early as it was too warm for the surviving snow to be very skiable.
Galdhoppigen – which aims to offer skiing through to early November, says it hopes it will be able to re-open in mid-September.
North America
Mammoth Mountain had hoped to stay open in to August but as in Europe the heat has proved too much and it made it to the last Sunday of July, having been open for 261 days straight, but called it a day on its nearly nine month long winter 2018-19 then.
So that currently leaves only one ski area open in the USA, and indeed all of North America - as there's nowhere currently open in Canada – the
Timberline
ski field on Mt Hood in Oregon. This is located on a "permanent snow field" (Kind of one level below a glacier) which never melts away completely (hopefully) and aims to be open about 11 months of the year, usually just closing for a few weeks in September.
So far, so good, but here too temperatures are due to hit the 30s Celsius at the start of August and snow cover has been getting thin so it's not clear if the centre will be able to stay open through August. If it does there are race training pistes and a couple of terrain parks currently open daily between 7am and 2pm.
Asia
Japan's Gassan ski area is just about still open it seems. Regular opening of the short drag lift on the snowfield that still survives, now down to 1.5m thick from the 190 metre depth it had in April, has ended but it does operate subject to demand still at times.
Southern Hemisphere
Australia
Australian ski slopes are in pretty good shape for August following some big July snowfalls and mostly low temperatures through the month. As a result bases have passed the metre mark at most of the country's leading areas with the biggest resort,
Perisher
, reporting 1.8 metres (six feet) of snow lying as we enter August. It has more than 80 runs open too, more than any other area at the present time, although some may have bigger skiable areas accessible.
Of the other big Aussie ski areas most are also fully open and operating at capacity. August is the last full month of the season here with most Australian areas closing at the end of September, although Perisher usually extends its season to the start of October.
New Zealand
New Zealand's ski areas had a problematic start to winter 2019 with little natural snowfall and periods of warm weather. Mostly though there's not been enough precipitation of either variety and the ski areas with the most extensive snow-making systems have enjoyed the best conditions.
Things are changing for the start of August though with a series of heavy snow storms moving up from the Antarctic in the last few days, and most of the country's ski areas reporting 25-35cm of fresh snow in 24 hours for the last day of July and consistently low temperatures.
Chile
A rather mixed picture in the Andes where we're five weeks in to winter 2019. The biggest snowfalls to date have been down in the south of the country where Nevados de Chillan is fully open, has a 165cm base (5.5 feet) and has been posting powder pictures for much of July.
Things were a little less in keeping with the powdery image at resorts like
Portillo
and particularly
Valle Nevado
to the north until very recently. Portillo ended July with six inches (15cm) of fresh snow though and its slope depth ranges from 60-150cm (2- 5 feet).
There's been some fresh for Valle Nevado too but it still has the lowest numbers for a leading resort in south America at 40-60cm (16-24 inches).
Argentina
Argentina's ski areas appear to have had the best snow conditions, overall, in South America so far this season. Catedral, the continent's largest resort by uplift, got particularly excited a few weeks ago with a 60cm (two foot) snowfall over 72 hours which it reported as the biggest for 20 years.
Another area, Chapelco, was the first to report a 2 metre base in the southern hemisphere in late July, although that has now dropped a little. Generally though, conditions have been great and July ended with more fresh snow falling at most Argentinian ski areas.
South Africa
August is the last month of the 2019 ski season at South Africa's Tiffindell ski area. There was some fresh snow here with several falls bringing 15cm of rare natural snowfall in the latter half of July. That has all melted again now but the area is fully open thanks to snow-making and should remain so through to the end of the month.
Lesotho
It's the final three weeks of the 2019 season for Afriski in Lesotho too so it's good news that after some natural snowfalls coupled with cold weather to fire up its newly upgraded snow-making system, the centre is now operating at maximum capacity with its full 1km long main run open along with terrain parks.