J2Ski Snow Report 24th October 2019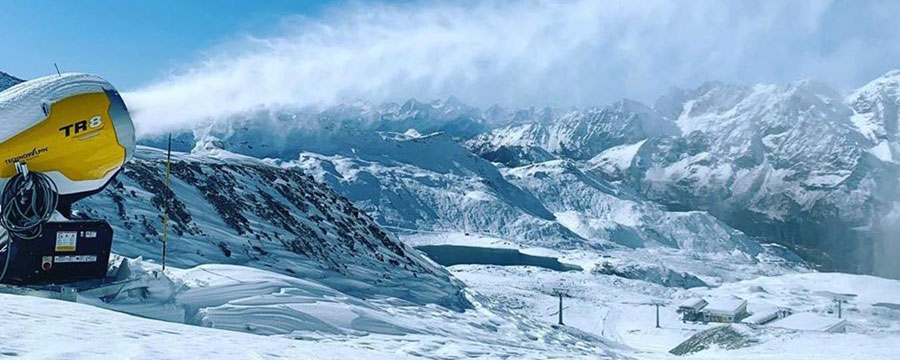 A snow cannon at work in Cervinia, Italy, opening this weekend...
Another few ski areas open as cold returns to the forecast...
The Snow Headlines - 24th October
- French ski season gets underway at
Tignes
, but Les 2 Alpes cancels October opening.
- Swedish 2019-20 ski season gets underway.
- First significant snowfall for Eastern North America.
- Season starts this coming weekend in Canada.
-
Livigno
uses snow farming to open cross-country ski trails.
- More US resorts opening this weekend.
- Southern Hemisphere's 2019 ski season continues at one last area, weekends only.
We are back above 20 ski areas open in the northern hemisphere now with the ski season opening in France and Sweden for 2019-20 in the past week. Resorts opened in Europe too, including Kitzbuhel, claiming to be the first in the Alps to open without a glacier.
There has been more snow up high across the Alps to raise spirits ahead of the main season as the snowline gradually moves down the mountains.
As well as coming to higher altitudes, it is also moving from higher latitudes with resorts in Lapland and Northern Scandinavia (already open thanks to snow farming), turning decidedly wintry last weekend thanks to heavy snowfall.
Across the Atlantic, there has been more snow too in the Northwest of North America and for the first time this autumn in the East too, although no more resorts have yet opened. Canada's 19-20 ski season is expected to start this Saturday.
In the Alpine Forecast
Snow coming to the highest slopes of Italy...
It's currently very mild in the Alps and that looks set to last into next week, albeit with some high altitude snow in the meantime. After that, as we approach November, the forecast models are going for cold (and snow). More on that next week, but fingers crossed...
Re-publication :- our Snow Report Summary, being the text above this line, is free to re-publish, but must be clearly credited to www.J2ski.com with text including "J2Ski Snow Report" linked to this page - thank you.
EUROPEAN ALPS
Austria
Austria continues to dominate in terms of the number of ski areas open; now up to a choice of nine resorts with the latest, Kitzbuhel, opening several slopes and about a kilometre of runs on Resterkogel last Saturday thanks to snow farming.
Otherwise, there are eight Austrian glacier ski areas, the biggest so far open being the Piztal,
Stubai
and Solden with more than 20km each, whilst
Hintertux
now has more than 30km open. The biggest focus of the week ahead is Solden where the Alpine Skiing World Cup 209-20 season kicks off at the weekend. The FIS has given the race the green light after a course check.
France
The ski season got underway three weeks later than hoped at Tignes on Saturday with the opening of a small area on the Grande Motte glacier - for good skiers only. The move reflected the delayed opening a year ago when access to the glacier slopes was rationed.
Les 2 Alpes was due to open for a nine-day period of glacier skiing from this Saturday but has quietly decided to cancel that, saying they prefer to 'protect the glacier' and have switched to focusing its promotional activity on highlighting the start of the main ski season in November and mountain biking this month.
Italy
The same two ski areas have remained open in Italy the past week as most of the past two months – Passo Stelvio, now in the final fortnight of its six month spring to autumn season, and
Val Senales
, the former summer ski area now open from early September through to spring.
Both have just a few kilometres of slopes open and the base at Senales, in particular, is reported to be a little thin.
More Italian areas are due to open this coming weekend, however, with Cervinia, as well as Sulden in the Dolomites, both saying they'll open on Saturday (26th) for their 19-20 seasons.
Finally, Livigno has uncovered its huge piles of snow stockpiled from last winter and spread them out around the valley floor to create early cross-country ski trails.
Switzerland
The
Diavolezza
Glacier near St Moritz in the Engadin region of Switzerland became the country's fourth ski area to open for winter 19-20, on Saturday.
It joins
Engelberg
, which reported a 30cm snowfall in 24 hours last week, as well as
Saas-Fee
and
Zermatt
which have also had plenty of fresh snow in recent days. In fact, Saas-Fee was closed on Saturday due to bad weather.
The next Swiss areas expected to open are the glacier at
Laax
and the high slopes at
Andermatt
this weekend.
Scandinavia
Sweden's season got underway last Friday with Idre Fjall using snow farming, the same technique used to open
Levi
and
Ruka
in Finnish Lapland earlier this month. After running its lifts free of charge for a period on Friday, natural snow started falling on Friday evening so conditions were great on Saturday with fresh snow to ski on top of the base reconstituted from last spring.
Apart from the three centres using snow farming to open, Norway's Galdhoppigen summer ski area which opened six months ago last spring is into the final week or so it is 2019 season, expected to close on the first Sunday of November.
Pyrenees
There's been more snow on high slopes in the Pyrenees and indeed further south right down to
Sierra Nevada
, Europe's most southerly major resort. The slopes there turned white again on Sunday after a good snowfall last Saturday.
It currently looks like it will be another month before ski areas in the Pyrenees begin opening although some will be ready to go sooner if there's a lot of snow, as there was here at the end of October last year.
Scotland
Temperatures were sub-zero overnight for much of last week in Scotland, and mountain tops turned white on Sunday morning after precipitation finally met the dry cold front, but so far there's no sign of any centre likely to open early – particularly as there's been no real snowfall and none forecast as yet.
The Lecht
was testing its Snow Factory all-weather snow-making system last week however and announced itself ready to open pre-Christmas whatever the conditions thanks to that.
A fourth of the five Scottish Highland commercial centres,
Glenshee
also announced plans to spend £1m on a large TechnoAlpin Snowfactory unit themselves to ensure some snow cover this winter, also saying they'd open in December regardless as a result.
Eastern Europe
Cold weather again at times in northern ranges like the Tatras brought some snow showers. Further south temperatures have been up towards 20C in resort in
Bansko
over the past week, although down to single figures on the mountain tops. There's no real sign of things turning wintry there so far though.
North America
Canada
Canada's ski season will kick off on Saturday with
Nakiska
announcing plans for its earliest ever opening, on October 26th. The Alberta resort is usually in the mix to be one of the first in the country to open, along with ski areas around
Banff
, a little further west, but this year it has stolen a march by announcing its early opening for a 'preview weekend' well in advance.
Although temperatures have been up in the teens above freezing in recent days the resort says it is confident of opening a few kilometres of runs with snow several feet (60cm) deep on the piste thanks to snow-making efforts and a few natural snowfalls over the past month. After Saturday and Sunday openings at 10am each day, the centre will close midweek.
It's also possible a ski area in Quebec could open this weekend too; Mont Saint Sauveur aims to open some high terrain with snow-making in October each year and says it will open as soon as temperatures are low enough for the cannons to work.
USA
With the race to open first in the US now behind us, things have quietened down a little over the past week here.
There has been more fresh snow on high slopes in the West of the country and fresh snow in Eastern North America too on Thursday/Friday last week – the first measurable falls of the autumn.
Whiteface in New York State reported five inches (12.5cm) at the top of the mountain and
Killington
said that snow was falling down to its base. Skiers hiked up to ski on the fresh snow at some areas.
However, no other areas have opened yet to join
Keystone
and
Arapahoe Basin
, high in the Colorado Rockies, both of which have around 3km of slopes open and bases around the 50cm mark.
Loveland announced on Tuesday that it will be opening for the season this Friday. Mount Rose above
Lake Tahoe
in California confirmed at the weekend that they also intend to open this Friday, 25th October.
It looks like it should stay snowy in the West but it is still warm in the East so the aim of resorts like Killington and
Sunday River
to use snow-making may be thwarted for a little while longer.
Southern Hemisphere
With 97% of southern hemisphere ski areas closed over a week ago and all areas in Australia and the Andes closed for snow sports until 2020 we were down to three New Zealand ski areas still open for winter 2019 as of last weekend.
There was fresh snowfall for the final weekend of the season at
Cardrona
which closed last Sunday.
Mt Ruapehu's
Turoa
and
Whakapapa
are still open, however, although this is the last full week for Whakapapa and Turoa just plans to open next weekend for a bit of pond skimming as the area celebrates its 40th birthday. Whakapapa will, however, stay open at weekends through November, so long as conditions are good enough. Running one lift through the final month of the southern hemisphere's spring.
Until next week, thanks for reading...