J2Ski Snow Report 5th March 2020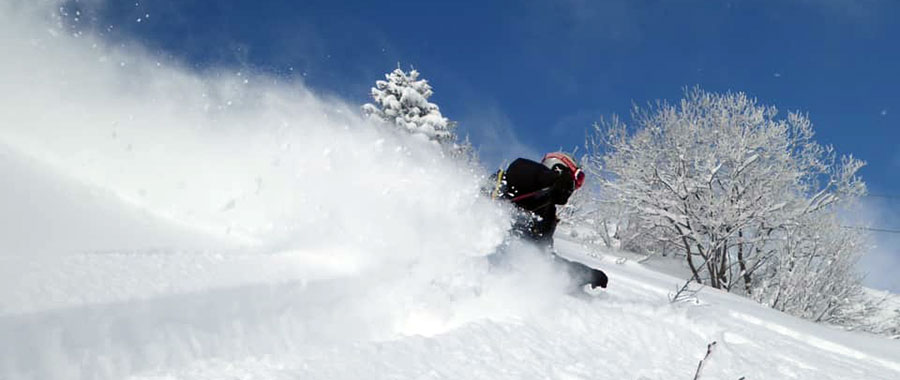 When it wasn't snowing this week, it looked like this... photo (c)Snoworks Ski Courses
Boom! It snowed!
The Snow Headlines - 5th March
- Big snowfalls for much of the Alps; some areas see almost a week of non-stop snowfall.
- Good snowfalls for the Pyrenees, the southern Alps and California.
- Riksgransen opens for 2020 season with the deepest base in Sweden at 4 metres.
- Some of the best snowfall of the season in Bulgaria and eastern Europe.
- Over a metre of fresh snow in a week, for resorts on East and West Coasts of USA.
- St Anton first ski area in Austria to report 4 metres plus base.
It's been quite a week for snowfall with some parts of the world seeing their biggest falls of the season so far.
The usual suspects in the Alps have had big accumulations but so also have regions that haven't had so much recently - the Pyrenees, the Southern Alps, large parts of Scandinavia and Eastern Europe, as well as California across the Atlantic.
Of course, snow doesn't always float down Christmas card style and the small print on many of these falls includes gale-force winds closing lifts, low visibility, temperature fluctuations that sometimes meant rain instead of snow and all of the above adding up to high avalanche danger (Level 4 - of 5 - in some areas).
But against all those downsides, there's plenty of powder and its clearly good news for sustaining ski centres through their final month or two of the season.
Over in North America, there was lots of snowfall this week for ski areas on both the West and East sides of the continent. In the East, where things have improved a lot over the past month after a poor start to the season, the snowfalls were probably the biggest this year, on the West the most interesting thing was a decent dump down to California, which has rather missed out on the big snowfalls further north since Christmas.
In the Alpine Forecast
Further big snowfalls expected in the next few days for north and western Alps with - after a brief lull - more incoming. Lighter snows, with some heavier local accumulations, to the east.

More snow for the Alps...
Re-publication :- our Snow Report Summary, being the text above this line, is free to re-publish, but must be clearly credited to www.J2ski.com with text including "J2Ski Snow Report" linked to this page - thank you.
EUROPEAN ALPS
Austria
A snowy week for Austria with many resorts seeing snowfall every day, or almost, but with sunny periods at times too. The most any one resort has reported was a metre for a small area in Salzburgerland, but a lot of resorts have had 30-60cm (1-2 feet) of fresh snow in total.
The snow was perhaps most welcome down in the south and east of the country which largely missed out on some of the big falls of the past month in the northern Alps.
St Anton has jumped ahead of Austria's glacier areas and is now posting the deepest base in the country at 415cm – the only resort with more than four metres of snow lying in the country, and indeed one of only a few worldwide to reach the four-metre base mark.
France
France too has had a very snowy week, with the snow arriving a day or so before Austria last week and adding up to a little more in many areas. Three Valleys report more than 1.5 metres (five feet) of snow since our report last week and
Tignes
was not far behind with 145cm.
La Plagne
and the
Paradiski
region were also amongst the big winners and now have a 4.35m base, still the country's deepest.
So fresh snow pretty much everywhere (ski areas in the southern Alps that missed out from falls last month seemed to get a better deal this time and were dumped on too). The avalanche danger has ranked up though of course, mostly Level 3 (Considerable) to Level 4 (High) at present.
Italy
Italian ski areas have had some huge snowfalls over the past seven days, particularly in the past 48 hours, taking skiers minds off the coronavirus outbreak a little bit perhaps.
The extra good news is that the snow has been falling on areas that have not had much this year so far, including the Dolomites, where up to 70cm has been reported since Monday, and more southerly parts of Piemonte (which saw huge snowfalls in early December but not much since) and Trentino.
There have also been big snowfalls in the areas up on the French and Swiss borders that had been having regular big dumps anyway. Big winners included Cortina d'Ampezzo (70cm) and
Madonna di Campiglio
(69cm).
Switzerland
The Swiss Lötschental ski region has again posted the biggest snowfall in Switzerland and indeed Europe over the past seven days claiming to have had 1.9 metres (over six feet) of snowfall. It has also joined the 4m+ base depth club, reaching 4.3 metres.
Other Valais regions reported rather less, although a number of smaller centres like Anzere claimed 1.3 to 1.6 metres.
Verbier
got the most snow of the big-name resorts – reporting 1.1 metres. Warren Smith in resort says conditions just get better and better.
As with other resorts in the Alps, there's been stormy weather at times, closing lifts, and the avalanche danger is of course way up, but the big picture is very good.
Scandinavia
A snowy week for Scandinavia is nothing unusual this winter – well at least for eastern Norway and the region's more northerly centre. Close to
Oslo
and
Stockholm
, as well as
Helsinki
for that matter, it has been an often warm and sometimes wet winter so the fact that the snow came further south at the weekend was very welcome at areas that have struggled to open much terrain.
Riksgransen, which opened for its 2020 season last weekend, has no such worries going straight in with a four-metre base on opening day.
Roldal in western Norway has had snow almost daily all year and posted 30cm in the past 72hours and the deepest base in Europe now at 4.8 metres.
Pyrenees
It has been the snowiest week for about six weeks in the Pyrenees with resorts there reporting up to 50cm of snowfall in the last seven days, with more snow currently falling and expected to continue to do so into the weekend. So that has obviously transformed slope conditions for the better with fresh snow and off-piste powder too – although extreme caution is required there (even more than normal) with at least one avalanche rescue already reported on the Spanish side of the mountains in the past few days.
Ski areas in Andorra report all runs open and a bolstered snow base for the final month or so of the season.
Scotland
So far Scotland's luck has held and there have been more great days on the slopes of the five Highland ski centres this week. In fact, the picture, already the best for several years, has kept getting better with more and more runs open across the five centres, and fewer days and part-days lost to gale force winds that plagued the area for much of the year until a week or so ago. There are still occasional wind closures, but not so much.
Glencoe reports the snow base several metres deep up high so it begins to look like it could weather a warming of temperatures, the other four areas are closer to 60cm on their upper runs but have now gone from about a third of their runs open to two-thirds in most cases. The good news is that temperatures are forecast to stay cold on the mountain and there's still more snow on the way.
Eastern Europe
It has really been about the best week of the season so far for many ski areas in Eastern Europe. There was heavy snow for Bulgaria at the end of last week as forecast, when the period of warm weather finally ended and temperatures plummeted depositing up to 30cm (a foot) of snow on the slopes, really transforming the conditions. The sun then shone through the weekend and at the start of this week but now a second wave of snowfall is coming in and looking like it will deliver as much snow again or more than last week – making this the snowiest period of the season to date. The avalanche danger is high with all the fresh snow on old snow along with temperature fluctuations and at the time strong winds.
Similar reports from the Czech and Slovak Republics, Slovenia, Poland and other eastern European ski nations.
North America
It has been another snowy week for much of North America.
Canada
Eastern Canada has enjoyed its best week of the season so far in terms of snowfall volumes with a number of resorts posting more than 50cm (20 inches) of fresh cover over the weekend. Everything was already looking good after falls in the latter half of February but it's even better now and Spring 2020 looks like it will be remembered much more fondly than autumn-winter 2019-20 there!
There's been more snow too in the Rockies and further west where the deepest bases at resorts like Mount Seymour are getting up near four metres. The big-name destinations like
Big White
and
Revelstoke
are closer to three metres with up to 30cm (a foot) of fresh and everything open.
USA
It has been one of the snowiest weeks of the season in the US with resorts on both the East Coast (
Stowe
) and West coast (Mt Baker) posting seven-day snowfall totals of more than a metre (40 inches).
There was also snow for Californian ski areas with resorts around
Lake Tahoe
, which hasn't had such a snowy winter since New Year, posting up to a foot (30cm) of fresh snowfall at the weekend for a nice slope refresh.
Some ski areas in the East actually reported more snowfall than the West, unusually, with resorts in Maine, Vermont and New York state posting 60-90cm (2-3 feet) accumulations, further improving already good conditions there.