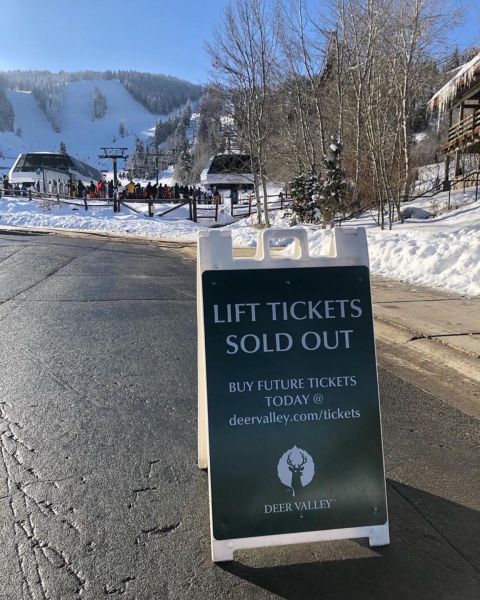 Deer Valley Ski Resort in Utah has sold out of lift tickets from December 21 - 23 and then for the full New Year's Week from December 27 - January 2.
During the coronavirus pandemic ski resorts in north America have been limiting the number of tickets available each day to ensure social distancing remains realistic, however Deer Valley is in any case a resort that tends to sell out of lift tickets around Christmas and new year due to its popularity over that period even in normal times and full lift ticket allocations available. That's despite raising its lift ticket prices at Christmas and New Year.
During the pandemic the large multi-resort owning groups Alterra and vail, have been encouraging skiers to buy their season passes valid at all their resorts and partner resorts, to ensure slope access on any day of the season despite capacity limits. Deer Valley is now part of the Alterra Group and is covered by their Ikon Pass.
"Deer Valley Season, Hospitality, and Ikon Pass holders are guaranteed access to the resort during the holiday," the resort notes in its 'sold out' statement.
For the rest of the season Deer Valley warns that from January 16 to 18, February 13 to 21 and at peak spring break periods in March, the resort typically reaches capacity.
"We strongly recommend our guests pre-purchase tickets online to guarantee access," a resort statement says.
Currently a one day pass in January bought online in advance costs between $189 and $229 with 6 day passes
costing between $1,002 and $1,050 for those aged 13 to 64.
Deer Valley is one of the few remaining ski resorts that only allows skiers on its slopes, not snowboarders.