J2Ski Snow Report 31st December 2020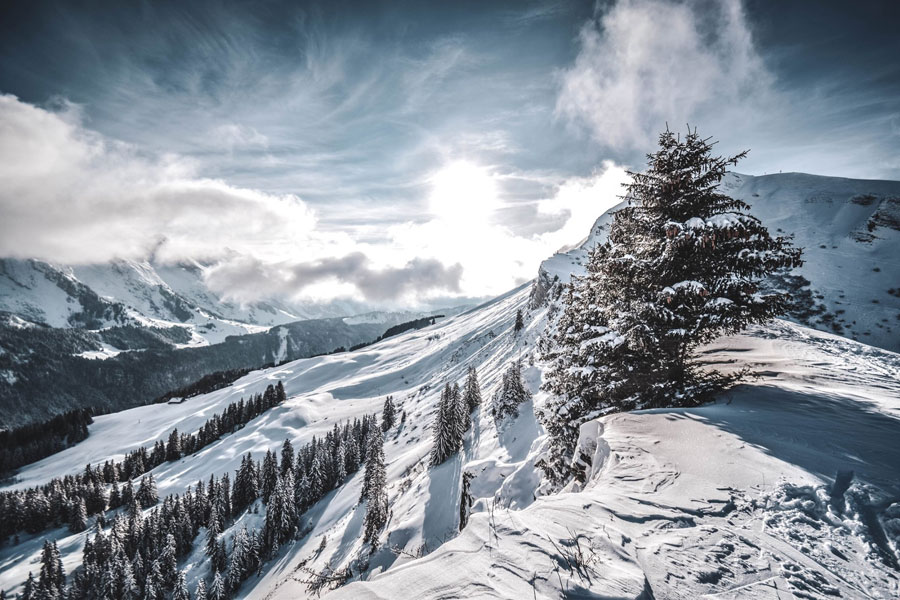 Ok, so the lifts are shut but if you can get there and you're prepared to skin up... Le Grand Bornand, France, looks like this at the moment...
Happy New Year from J2Ski!
The mountains are waiting for us... please stay safe and follow local advice on travel. We can't all go skiing just yet but we can dream!
The Snow Headlines - 31st December
- Up to a metre of snowfall in 24 hours reported in the Alps.
- World's deepest snow heads towards 5-metre mark in Western Canada.
- More than 280km of slopes reported open in 4 Valleys, Switzerland.
- Ski centres close in Czech Republic,
Ontario
and Slovenia due to pandemic.
- Ski areas in Andorra, France and Italy wait to hear if they can open on 7th January.
- Rain briefly closes slopes in Northeastern North America.
- Three Scottish ski areas open for locals in country's 3-week lockdown.
It's a very mixed picture in the skiing world as we end 2020.
Although still to be confirmed, we are hopeful that most of Europe's ski slopes will be open by early January, and that most in North America and Asia will also be open.
The snow news worldwide is fairly good. The deepest reported base - in western Canada at present - is approaching 5 metres and the past week has seen significant snowfalls in western North America, the Midwest, Pyrenees, Dolomites, Alps, much of Eastern Europe and Scandinavia. There's even been some snowfall and consistently cold weather in Scotland.
For many of us, local and international travel bans are more of an issue at present but, fingers crossed, things should start to improve from here.
In the Alpine Forecast
Lighter, scattered snow showers in the forecast for much of the alpine region this coming week.

Snow heading for Canada, USA and Japan...
Re-publication :- our Snow Report Summary, being the text above this line, is free to re-publish, but must be clearly credited to www.J2ski.com with text including "J2Ski Snow Report" linked to this page - thank you.
Europe
Austria
Austria has opened (or in the case of its glacier areas re-opened) its slopes and has been reporting generally great conditions through its first week of the season. Snow that had accumulated during the seven weeks closed is lying up to 3.5 metres (12 feet) deep on glaciers and there was significant fresh snow at the start of this week too.
It's not a perfect picture, of course, as some low-lying ski areas have little snow on lower slopes and the latest snowfall was accompanied by up to 'hurricane force' winds on Monday which led to the cancellation of a World Cup slalom race after its first run.
Pandemic operating is causing issues too. Some areas were crowded over Christmas but others have reported very quiet slopes – in some cases too quiet to be able to generate enough income to cover costs and the Molltal glacier shut down 'temporarily' (but with no clear reopening date known) soon after re-opening, apparently for that reason.
Resorts had hoped to open for tourism on January 7th but that's now been set back to January 18th and then only if infection levels are low.
France
French ski resorts are still hoping they'll be able to open for the season from the 7th January, but the French government hadn't, at the time of writing, confirmed this and doubts are therefore growing that it will happen on that date.
Currently, resorts are generally open but without ski lifts operating, other than in enclosed children's nursery slope areas. Some trails have been groomed for those who want to hike up to ski or sledge down. Conditions look excellent for the few people in French resorts for New Year, with low temperatures and fresh snowfall earlier this week.
Italy
Ski areas in Italy hope to be able to open from January 7th, but at the time of writing it has all gone very quiet with no confirmation from the country's government. That rapidly approaching date is uncertain at present.
Italy's ski slopes do appear to be in good shape however if what stats there are, coupled with TV footage of world Cup races in
Alta
Badia,
Bormio
,
Madonna di Campiglio
and Val Garden in the weeks around Christmas are anything to go by. Another big snowfall in the country led races in Bormio to be postponed by 24 hours as up to a metre of fresh snow fell.
Switzerland
Although many ski areas are now open, restrictions on resort facilities seem to get ever more draconian in Switzerland (e.g. restaurant closures, etc.), the country continues to have the most 'normal' winter (even if it is far from that!) in terms of ski areas being able to open.
Most of the country's resorts do remain open, albeit suffering from a lack of skiers in many cases, and most reported some fresh snow at the start of the week. More and more terrain is open too with the 4 Valleys reporting it had more than 280km of slopes open for New Year – nearly three-quarters of its full area and possibly the largest area open anywhere in the world at present.
Scandinavia
Almost all ski areas in Scandinavia are now open, many having just started their seasons in the past week or two.
Some ski areas including Norway's famously snowy Roldal have been getting back to their normal state of being, reporting a foot (30cm) of snowfall at the start of this week but for many of the bigger resorts, it has been cold but not so snowy.
Are in Sweden, the biggest in the region has about half its runs open and a snow depth of only around 50cm.
Hemsedal
, also owned by the Skistar group but over in Norway, is in better shape with 80% of its slopes open and a snow depth of more than a metre.
Pyrenees and Sierra Nevada
It's looking like the Pyrenees may open up over the coming weeks although reports in the country's media suggesting Andorra's ski areas would open for the season from Saturday, 2nd January now look to have been premature with the date still unknown.
However, areas already open on the Spanish side of the mountains will dramatically increase what's available – Baqueira going up from 35km at Xmas to 90km of slopes open over New Year. French ski areas in the Pyrenees currently hope to open for the season from Thursday 7th January in a week.
Strong winds closed slopes in
Sierra Nevada
to the south earlier in the week.
Scotland
Scottish ski slopes have seen plenty of fresh snowfall over the past week and consistently low temperatures. Three centres are currently open in Scotland's latest 'near-lock-down' with all ski areas moved into the highest level 4 in the country's tier system, in common with the rest of the Scottish mainland, even though infection rates are currently very low where they're located.
Access is limited to people living in the regions where they are located (Aberdeenshire, Perthshire, Moray and Highland).
Glencoe
report snow is not quite enough for groomed runs so far but people are out ski touring. A few runs are open so far at each of
Glenshee
and
The Lecht
.
Eastern Europe
It has been the snowiest week of the season so far in Eastern Europe with Slovenia's
Kranjska Gora
posting one of the biggest accumulations, 70cm in 24 hours on Monday-Tuesday 28-29 December. Other big resorts in the region like Slovakia's Jasna or Bulgaria's
Bansko
have posted significantly improved conditions too with powder snow and more terrain open.
Most ski nations in the region have allowed their ski areas to open, although the Czech Republic, which had done initially, has now closed its ski slopes again.
North America
Canada
A real East-West divide in Canada with more snowfall and snow depths reaching the 4.5 metres (15 feet) mark along the BC/Alberta border at resorts like
Banff
(Sunshine) and
Kicking Horse
, the deepest in the world at present. Eastern Canada continues to have a rather lousy start to the 20-21 season, partly due to the pandemic but equally because mother nature refuses to play ball. Heavy rain was the latest issue to impact centres, closing many just after Christmas, but it has been colder and snowing again in the past few days, thankfully.
Ontario has become the first state or province in North America to see ski resorts closed by the local government.
USA
As with Canada, although perhaps not quite so extreme, there's an East-West divide for snow conditions in the US. That said, most parts of the country have seen fresh a snowfall in the past week, as much as half-a-metre (20 inches) in parts of the Rockies.
In the northwest, the snow came after a period of heavy rain which damaged snow cover on the slopes as it did to the north in Quebec. There was physical damage at one ski centre in New York state, Belleayre, where a 'wet snow avalanche' crashed down into the base lodge.
Against the mixed snow news, more popular ski resorts have been reporting their limited numbers of day passes have been selling out most days, generally due to a 50% capacity cut due to the pandemic being felt as holiday demand grows.
We'll see you next year! Thanks for reading...