J2Ski Snow Report 7th January 2021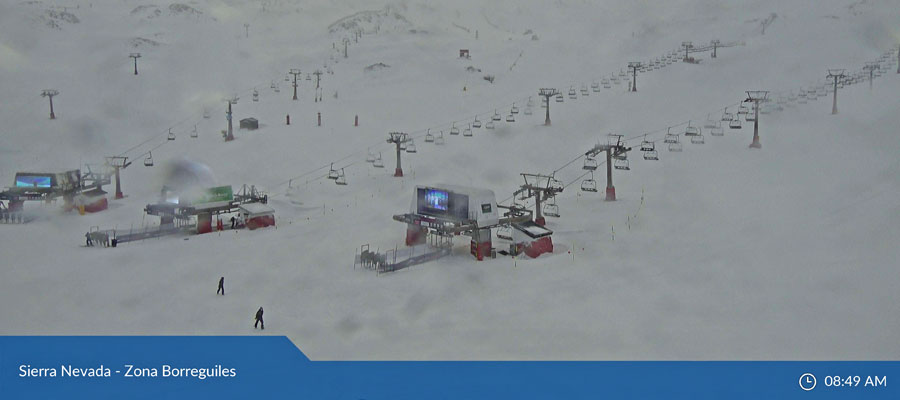 Sierra Nevada, Spain, early this morning and expecting snow...
2021 arrives with snow... and uncertainty!
The mountains are waiting for us... please stay safe and follow local advice on travel. We can't all go skiing just yet but we can dream!
The Snow Headlines - 7th January
- Andorra's ski season underway.
- Up to two feet (60cm) of fresh snowfall reported in the Alps.
- Scotland and Slovakia close ski areas again.
- (More) Massive snowfalls in Japan
- Austria and Italy delay 'ski tourism' resumption to (at least) late January.
- Whistler reports 64cm (over 2 feet) of snowfall in 48 hours on Monday/Tuesday.
It's been a cold week in most parts of the skiing world and for the majority that looks to be the case for the week ahead too.
Some of the biggest snowfalls reported have included up to 80cm accumulations in the Alps (though for most more like a quarter to a half of this); similar in the Northwestern region of North America (and for much of the rest of the continent's ski areas a quarter to a half of that).
In Japan, heavy snow brought more than a metre of fresh to some areas, and another wave is just moving in. It is a great relief after the warm dry winter there last season, but sad of course that most skiers can't currently travel there.
With the Christmas and New Year holidays behind us, the focus has been on countries with closed slopes; and whether they might re-open imminently.
Austria, which currently allows ski areas to open to local skiers, now says it will allow ski tourists from the 24th January, but that's if infection rates are low enough. Italy has made a similar announcement, aiming for January 18th there though.
France is about to make an announcement and may have done so by the time you read this, but the original date of the 7th isn't looking promising.
Andorra, however, surprised everyone by opening on the 2nd to locals, with a plan to open for ski tourism from next week if their infection rate stays low too.
Against these positive developments there are new setbacks. Slovakia, which has had its centres open over Christmas, has now closed them for most of January although currently its neighbour, the Czech Republic, expects to re-open its ski slopes which were closed over Christmas and New Year, from Sunday the 10th.
In Scotland, where conditions were just getting good, the three still-open ski areas have now been closed by the government.
In the Alpine Forecast
Generally cold, crisp and clear for the next week or so in the Alps!

More snow incoming for Japan...
Re-publication :- our Snow Report Summary, being the text above this line, is free to re-publish, but must be clearly credited to www.J2ski.com with text including "J2Ski Snow Report" linked to this page - thank you.
Europe
Austria
Some ski areas in Austria have been open (or have re-opened), for local skiers, for a fortnight now, but the hopes of opening to all keep getting put back as the virus continues. The latest hoped-for date is 24th January but that relies on low infection rates by then.
Not all Austrian centres have opened; with two of the biggest,
Ischgl
and Saalbach, staying closed. Saalbach says they'll lose too much money opening following an Austrian government requirement that skiers wear surgical standard masks, not just a buff or standard mask; Ischgl appears to be concerned over cross-border links with its ski area to Switzerland.
Saalbach has just announced some lifts running this weekend though.
As to the snow, well still good, especially on higher slopes. Nassfeld claimed an 80cm snowfall over the weekend.
France
There's uncertainty too in France over when ski areas there may be allowed to open. The original date of January 7th looks highly unlikely, but at the time of writing a government meeting was expected to discuss this very issue. The fact that a press conference to announce the conclusion is not due until the 7th itself makes it seem very unlikely that resorts will be allowed to re-open the same day.
Virus rates have started to decline in parts of France and ski areas are open in three bordering countries (Switzerland, Andorra and Spain). French resorts are largely "open", just without the ski lifts running, and business was down 80% over Christmas and New Year.
According to ski tourers conditions are generally great with more fresh snowfall this week.
Italy
Conditions are excellent in Italy at the moment – it has been a snowy weekend and start to this week with several resorts reporting as much as 60cm (two feet) of fresh snow. On top of that, some of the countries yet to open glaciers say they have six metres (20 feet) of snow lying, which would be the deepest in the world at present.
A great shame then that the slopes remain closed of course, with the hoped-for season start date currently set at January 18th, having slid back from the 7th as Italy matches the UK for virus deaths and infections, amongst the worst in Europe and the world, unfortunately.
Switzerland
Switzerland is the only country in the Alps where you can actually enjoy the fresh snow, with resorts still open. What's open off the slopes in terms of accommodation, dining and other activity options is more restricted and varies from canton to canton, but the lifts themselves are turning.
The number of non-Swiss guests is much lower than usual though due to pandemic travel restrictions.
Here too conditions are pretty good for most areas. 30-60cm of fresh snowfall was widely reported around the weekend and start of this week with
Saas-Fee
reporting over 60cm (two feet) falling in 72 hours.
Scandinavia
A pretty good picture from Scandinavia where most of the region's resorts are now open, several have now passed the metre-snow-base-depth mark and conditions are cold and snowy. Of course, that's how it should be in January, but it's a relief after some rather warmer-than-normal and sometimes wet weather in November and December.
Levi, up in the north in Finnish Lapland, even joyfully proclaimed daylight had returned at the weekend after three weeks of polar night due to its northerly latitude.
Pyrenees
The excellent news from the Pyrenees this week was the decision of Andorra's ski areas to open for the season last weekend. The date of the 2nd had been mooted a little before Christmas but as it drew near centres were uncertain if they could open as little as 48 hours before they did – running lifts free of charge for opening weekend.
The caveat is that like ski areas over the border in Spain, only locally based skiers are allowed on the slopes at present. There's been more fresh snowfall and those living locally report great conditions.
The region's bigger resorts like Baqueira Beret (which reported another 15cm of snow on Wednesday) and
Grandvalira
are each opening up 100km or so of piste.
Scotland
In what is turning out to be an ironic repeat of the end of last winter when Scottish ski centres were forced to close due to the pandemic lockdown just as conditions there got really good, the Scottish Government shut down the three centres that were operating (under strict limits) just as conditions this season were looking ever better.
Scotland often has periods of rapid temperature change and gale force winds which can make operations difficult but the past three or four weeks have been consistently clear, cold and calm which had allowed centres to open ever more terrain with great snow conditions.
The closure will last at least three weeks but may be extended.
Eastern Europe
Improving conditions are reported down in Bulgaria with some fresh snowfall allowing resorts like
Bansko
and
Pamporovo
to open more terrain and
Vitosha
to open.
It's a mixed picture elsewhere but mostly down to virus restrictions. The Slovak Republic, home to resorts like Jasna, has closed its ski centres for most of January having been open at Christmas and New Year. It's neighbour the Czech Republic had earlier said resorts could open on the 10th of January.
North America
Canada
A very snowy picture in western Canada with Whistler reporting an average of a centimetre (half an inch) of fresh snow an hour falling on its upper slopes for the first three days of the week and many other resorts in BC as well as over the border in Alberta reporting 30-60cm (1-2 foot) accumulations.
For most that builds on an already snowy first month or two of the season meaning great conditions, although at times also high avalanche danger. Unfortunately, the opposite has been the case over in Eastern Canada with warm and wet weather causing issues for much of November and December - thankfully it has been cold in Quebec with some fresh snow this last week and things are fast improving.
Ontario is however still the only region on the continent where ski areas have been closed by the provincial government due to the pandemic.
USA
An improving picture across the US with more snow in most areas but not yet a particularly spectacular season anywhere. The Rockies have reported fresh snow but levels are still down on the average.
The deepest snow is in the Pacific Northwest region but here there has been periods of rain for some, interspersed with snow showers and gales. Over on the east it's definitely a better start to 2021 than the end of 2020, which saw a warm wet spell around Christmas, with consistently sub-zero weather. That has brought a little fresh snow but perfect conditions for the snow-making the region is famous for.