J2Ski Snow Report 18th March 2021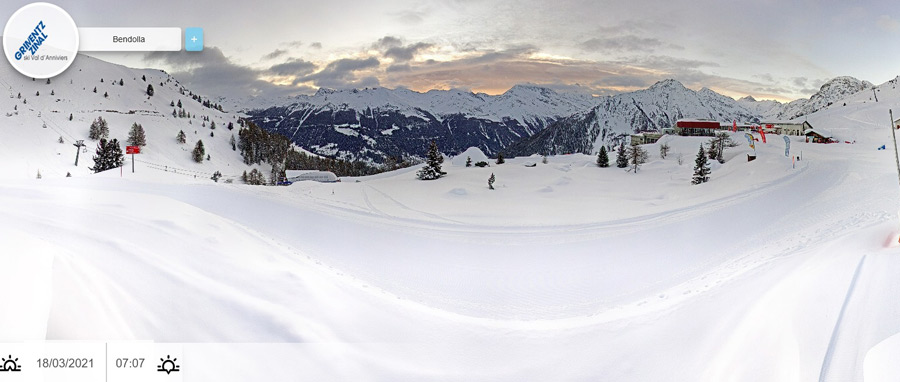 Val d'Anniviers, Switzerland, looking good this morning...
Snow in the Alps and America.
The mountains are waiting for us... be patient, stay safe and follow your local advice and rules on travel.
The Snow Headlines - 18th March
- Some Swiss ski areas report over 1.8m (6 Feet) of snowfall From major storm.
- Succession of big snowstorms in US hit California and then the Rockies.
-
Arlberg
area sees restaurants re-opening in Austrian test case.
- The deepest base in Europe nears the 6-metre mark.
- Snowfall reported at Mount=t Baw Baw in Australia in final days of summer there.
It has been quite a week in the Alps with one of the biggest snowstorms of the winter (and the first big dump for two months) hitting the region. France and Switzerland have reported the biggest storm totals, with several reporting over 1.8 metres (six feet) accumulating over three days, but most ski areas have had at least 50cm of snow and many towards a metre, including resorts in Austria, southern Germany and northern Italy.
The snow, often arriving with strong winds, has caused very high avalanche danger over a wide area. In France, ski lifts are closed but resorts are warning freeriders as well as cross country skiers and snowshoers of the dangers. Elsewhere in Europe, there's been more snow in Scandinavia, some snowfall down in Bulgaria and it was a snowy weekend for the Scottish Highlands, although it has warmed up a lot since.
Across in North America, it has been a snowy week too with some 60cm (two-foot) accumulations first on the west coast in California then in the Rockies, with the north again benefiting most.
In pandemic news; centres in Spain are opening more terrain as travel restrictions there are eased. Scottish centres may also be able to open earlier than expected, at least to locals, from early April, but that's not clear yet, nor whether there'll be snow left by then anyway. It's less good news in Germany where most ski areas now say they won't be opening this season.
In the Alpine Forecast
Another cold week ahead, with snow in the East of the Alps, before temperatures moderate toward the end of the month.

Snow inbound for Austria next week...
Re-publication :- our Snow Report Summary, being the text above this line, is free to re-publish, but must be clearly credited to www.J2ski.com with text including "J2Ski Snow Report" linked to this page - thank you.
Europe
Austria
Austrian ski areas have been busily posting images of buried cars and - in some cases, including up at St Christoph in the Arlberg - buried buildings as giant snowdrifts sweep into structures.
Most of the country's ski resorts remain open to local people and the Arlberg, again, is currently being used as a national guinea pig to test restaurants re-opening. However, hospitality (hotels) won't re-open until Easter at the earliest and resorts that sometimes stay open to May or beyond are telling anyone who can travel there, to look for smaller family-run pensions as it will not be worthwhile for bigger hotels to open.
France
French ski resorts remain open but with ski lifts not allowed to operate.
They reported big snowfalls over the first half of this week, with some ski areas like
Les Menuires
and
Val Thorens
noting around 75cm in 72 hours.
Avalanche danger levels are widely put at 4 on the scale to 5.
La Plagne
reports the deepest snow depth in the country of those that are measuring it, at 3.5 metres. It's unclear if any French ski area will be able to open lifts this season; it looks increasingly unlikely at this point.
Italy
Italy has, unfortunately, had to enter a third lockdown as virus cases rise there and so there's no chance really now that ski areas will be able to open this season.
Summer ski areas like Cervinia (for access to Zermatt's summer ski slopes) and Passo Stelvio, opening in late spring/early summer, remain possibilities - as at the end of the first lockdown last year - depending on whether this new lockdown is successful.
The heavy snowfall in the Alps passed to the north to some extent, and even where Italian resorts did get the snow some are semi-shut-down at present and not measuring the snow depth, but it does look like the
Aosta Valley
was among Italian areas seeing big accumulations.
Switzerland
Swiss ski areas posted the biggest snow totals right through the storm this week, with little Elm in Eastern Switzerland claiming 2.4 metres (eight feet) fell there in the past seven days. Otherwise, most of the biggest dumps (1.5 to 1.8 metres, 5-6 feet) were reported by ski areas in Valais to the west. Of course, the avalanche danger is very high and all the snow has also led to at least the first day of racing at Lenzerheide in the World Cup finals being cancelled.
Engelberg in Central Switzerland - which reports about a metre of new snow - has moved close to the world's deepest snow depth, currently held by Alpental ski area in Washington state, USA, and gone through the five-metres depth mark on its Titlis glacier up towards nearly six metres (20 feet) all in the past five days.
Scandinavia
Scandinavian ski areas tend to come into their own in spring with longer daylight hours and colder temperatures at their latitudes to keep the snow in good shape without going into the freeze-thaw territory as is the case further south.
There's been mostly light to moderate snowfall reported and almost all ski areas in Finland, Norway and Sweden remain fully open and reporting excellent conditions.
Pyrenees
There's not been much fresh snowfall in the Pyrenees, unlike in the alps, but it has remained fairly cool and the biggest news is that Spain has relaxed some of its virus restrictions allowing people to travel further to ski. As a consequence, the few areas that are open, which have also been limiting how much terrain they open to minimise operating losses, are now opening more terrain.
Masella
is going up to about 60km of runs open, the most in the Pyrenees since around Christmas/New year.
Scotland
Scotland's ski areas got a boost at the weekend with a return of low temperatures and some of the best snowfalls since the end of the two months cold, snowy spell in mid-February. Hills that had turned green and brown over the month since then went back to white.
Since the start of this week though temperatures have been climbing again and it looks like highs of 10C will be the norm over the weekend in highland glens which will be bad news for lower slopes.
Scottish areas remain closed due to pandemic restrictions but it looks like the re-opening date has moved forward in April, at least for people living locally. Hopefully there will be some snow left then.
Eastern Europe
Things have turned quite wintry down in South-Eastern Europe and some moderate snowfalls have been reported at resorts like Bulgaria's
Bansko
and Serbia's largest ski area of
Kopaonik
. The snow totals are not huge but temperatures well below freezing and regular snowfalls continuing for much of the past week is pretty good for mid-March at these latitudes.
The long-run down to Bansko resort from the slopes remains open with 20km of snow cover.
North America
Canada
It continues to look good across Canada with a generally snowy picture and in most case temperatures cool enough to maintain snow quality. There have been blips; Whistler's lower slopes have seen rain again in the past week (not terribly unusual) and in the east, several ski areas in Quebec were closed earlier this week as it was too cold for safe operations.
Most Canadian centres are fully open and reporting good cover and conditions.
USA
It has been a snowy week in the Western US.
The big snowfalls began to hit California at the end of last week, with some ski areas seeing two feet (60cm) of snowfall before the skies cleared at the weekend giving idyllic conditions.
The Rockies, particularly Colorado, were forecast by some to see their 'biggest snowfall for over a century' at the weekend, but that did not materialise. The biggest fall was around two feet, with the heaviest falls (closer to a metre) further north in Idaho and Wyoming.
Conditions remain generally good in the East but the first ski areas in more marginal locations, generally at southerly latitudes from East to West coasts, have begun closing for the 21-22 season as the snow starts to go.