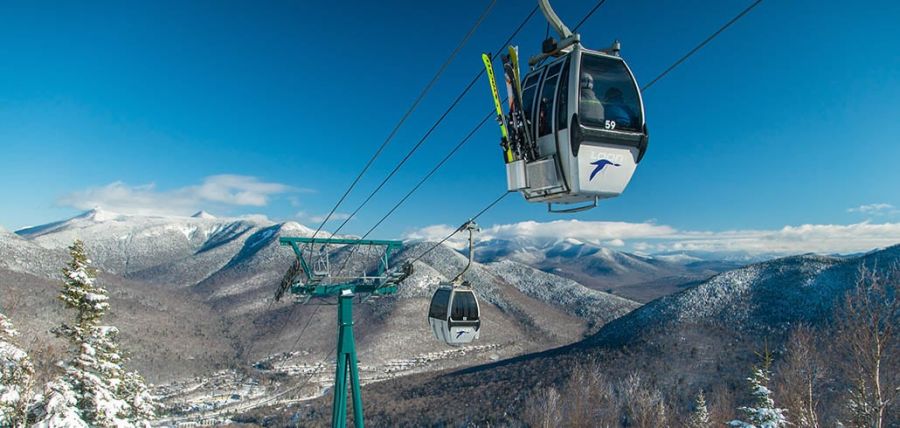 Loon Mountain in New Hampshire is to install the first lift with eight-seat chairs on the Eastern side of North America over the summer, ready for winter 21-22.
The project was originally announced more than a year ago but was one of those suspended by the Boyne Group, which owns the ski area, after the coronavirus began. However the delayed start of work this spring has now been given the go ahead.
Remarkably, given that it's now more than 20 years since the first 8-seater chairlift was installed in Norway, the Doppelmayr lift will only be the second in the US, following the recent installation of a chair in Montana at
Big Sky
. The new lift will showcase the manufacturer's D-Line technology, making it the most technologically advanced lift ever installed in the East and one that will provide unrivalled speed and comfort for skiers.
"The Kancamagus 8 chairlift will be a leap into the future of skiing for our guests," said Jay Scambio, president and general manager of Loon Mountain Resort. "We are committed to bringing the latest advancements to our guests-this lift is the next example of that, following our first-in-the-world dual-frequency RFID installation." 
The chairlift project was unveiled to local and regional stakeholders and members of the media as part of the resort's 10-year plan, presented by Scambio in January 2020 at a community meeting. The state-of-the-art, eight-place chairlift will replace the Kancamagus Express Quad, which was the most advanced of its kind when originally installed at Loon in 1995. 
Each of the 62 chairs on the Kancamagus 8 will feature eight heated, ergonomically designed, and extra-wide seats and tinted bubbles. This ultra-smooth, whisper-quiet ride will move at a speed of 18 feet per second, delivering skiers to the top in under 4.5 minutes. The lift will also be equipped with the most advanced safety features of any in North America, including auto-locking restraining bars, individual footrests and height-adjustable conveyor loading which also increases efficiency in transporting guests of all sizes.
Mark Bee, president of Doppelmayr USA said, "We have a deep, long-standing relationship with both Loon and Boyne Resorts and are proud to be a part of a major step forward in the eastern ski scene that puts Loon on a path towards achieving its goal of having one of the most advanced lift systems in the world."