J2Ski Snow Report 25th November 2021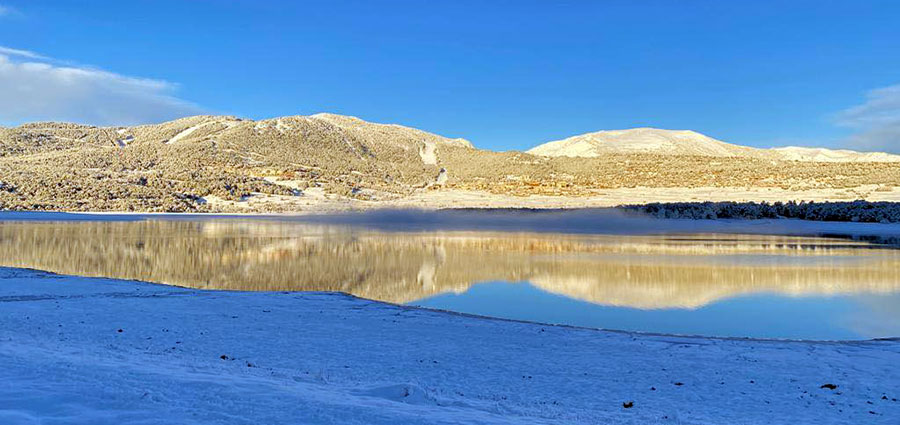 Near Les Angles, French Pyrenees, today...
Snow in the Alps, and lots more to come.
We heard you missed us? We're back! And so's the snow! We're delighted to bring you the first J2Ski Weekly Snow Report of the season and it's a good one...
The Snow Headlines - 25th November
- Austrian tourism in lockdown but some ski centres still open to locals.
- US ski areas struggle to open much/at all for Thanksgiving due to warm weather.
- First centres open in the Pyrenees.
- Canadian ski areas post the biggest snowfall totals of the past week.
- Scandinavian ski areas begin opening en masse following world cup racing in the region.
- Scotland finally gets some pre-season snowfall.
- First World Cup racing in North America for two years this weekend.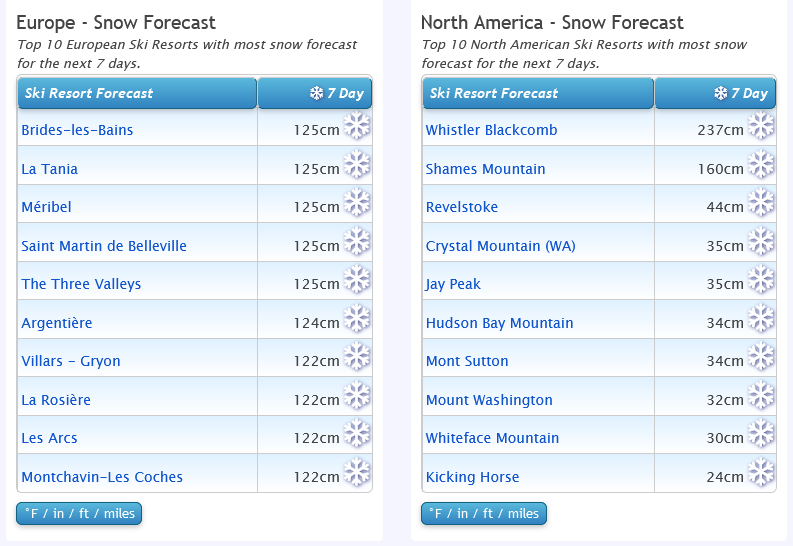 A lot of snow in the forecast for Europe and America!
Re-publication :- our Snow Report Summary, being the text above this line, is free to re-publish, but must be clearly credited to www.J2ski.com with text including "J2Ski Snow Report" linked to this page - thank you.
World Overview
Europe
The ski season has started across Europe and considering that didn't happen this time last year in about half the major ski nations that feels like an achievement.
There is a hiccup in Austria, with a 20-day partial lockdown underway, but France, Italy and Germany have all opened resorts and the season is gathering pace. There are more than 50 areas open already across Europe with that number set to double or even triple this weekend. As to the snow, well, that's not been too exciting of late, but that's about to change...
Most of the early-opening resorts have enough up high and some like
Zermatt
/ Cervinia have managed to open about 60km of runs - but for most it's much less. The good news though is that a multi-day snowstorm is now hitting the Alps and is expected to run through into next week, so hopefully, that will be 'transformative' ahead of the main season.
Elsewhere on the continent there's already been a good snowfall in the Pyrenees earlier this week and ski areas are set to open there this weekend.
North America

It has not been a November to remember for most of North America, with too much warm and dry weather across the continent, but as in Europe, more wintry weather is arriving.
Denver posted it has passed the latest ever date it has had snowfall earlier this week in almost a century of keeping track. It all started so well with a near record-breaking October snowfall in California a month ago but most of that has thawed away and many resorts have delayed opening.
The Thanksgiving Holiday weekend is upon us now though and some have opened but with very limited terrain. On the upside, though things have turned more wintery across much of the continent this past week allowing resorts to open in the Midwest and on the East Coast that hadn't been able to until now. It's still not great in California though.
Europe
Austria
Austria has everyone worried in the Alps now after a huge surge in infections led the country to announce a 20-day lockdown, which started on Monday and is due to end on December 12th.
Actually, there's a chance it will end sooner as the Austrian government has stressed 20 days is the maximum and it will end sooner if possible, with a review due next week. There was confusion at first, as it was thought the dozen or so ski areas that had already opened would have to close (per the Austrian lockdown last autumn), but it later became clear they could stay open but just for locals with hotels and restaurants staying closed.
So several glaciers including the
Kitzsteinhorn
,
Stubai
and Molltal have stayed open/re-opened. Solden however, which last weekend had the most terrain open of any ski area in the world, with 70km of runs has closed for now.
France
So far the French ski season has got off to a fairly smooth start with
Tignes
opening last month and three areas,
Val Thorens
, Montgenevre and Porte Puymorens kicking off the main season at the weekend.
Several more including
Chamonix
and Les 2 Alpes are expected to join them this weekend as momentum builds.
Against that there's of course nervousness about the pandemic situation in France which seems likely to mean that it will be required to show a COVID passport at the lifts in the next few weeks. That rule will be brought in if cases in the country rise above 200 per 100,000 (which looks likely).
On the bright side, heavy snowfall is in the forecast after a fairly dry and sunny few weeks with many French ski areas expected to see up to 50cm of fresh snowfall by the start of next week.
Italy
There's cautious optimism in Italy at present with ski areas opening here, as in France.
In fact, Italian ski areas have been opening sooner and in greater numbers than in France with seven centres already open this week, and at least 20 more set to join them at the weekend. Cortina was one of the first to open early, earlier this month, with
Madonna di Campiglio
joining it last weekend, selling out of tickets.
Most Italian areas require online ticket purchase, surgical-grade mask-wearing and being in possession of a vaccine certificate, recent recovery from infection or a negative test result.
The snowfall here, like elsewhere in mainland Europe, has been limited in November although Cervinia has 60km of open slopes shared with Zermatt, the largest area in the world open so far. The forecast looks promising here too with 2-3 days of snowfall expected over the weekend and cold weather, indeed temperatures dipping as low as -25C at 3000m altitude.
Switzerland
Switzerland is of course the country where ski slopes stayed open all last winter, although there were various limitations at times, and so far the season is gathering pace there with more than a dozen ski areas, most with glacier skiing, open.
These include lots of big-name areas like
Andermatt
,
Arosa
, Crans Montana,
Davos
,
Laax
,
Engelberg
, St Moritz,
Saas-Fee
,
Verbier
and Zermatt – all already open for the season. Their numbers are set to grow further this weekend and snow cover should be boosted too with a major snowstorm expected to bring up to half a metre of new snow through the weekend. That will be welcome as bases are mostly fairly thin and terrain limited so far.
Scandinavia
Scandinavia has had a mixed autumn with cold and snowy weather up in Lapland, and increasingly further south too, but not a whole lot of snow so far. Despite this about a dozen resorts are already open and most big name resorts are expected to follow this weekend.
Levi
in Finland has been hosting World Cup slalom racing.
There's not much snow in the forecast but there is some and temperatures will be sub-zero night and day which is, of course, good news for snowmakers.
Pyrenees
After 20-40cm of snowfall was reported across the Pyrenees in the middle of this week it's looking like a great start to the season coming up this weekend when most of the region's leading ski resorts in Andorra, France and Spain are expected to open.
The first in the region, Porte Puymorens, did open last weekend, a limited area and for two days only, but it was the first opening since March 2020. That's the case for many of those about to open too as Andorra and Spain had lockdowns or other restrictions last season which made it not worth opening for many centres even if they were permitted to.
Scotland
Scottish ski slopes have had a warm autumn to date with little hill snow but the weekend should see a change for the better with snow forecast through next week. All five centres also have all-weather snowmaking systems and
Glencoe
at least has begun creating snow piles with their, it says initially for use on its sledging run.
Eastern Europe
It's not quite the start of the season in Eastern Europe although resorts will start opening in the next weeks. Most of the better-known centres won't do so until mid-December however.
Temperatures are dropping and there has been the odd snow covering at higher elevations. Jasna in Slovakia was among areas starting snowmaking on Wednesday. Resorts have also been firing up their snow guns, but for most, there's still some way to go before opening.
North America

Canada
Canadian ski areas have seen the heaviest November snowfalls in North America, as you might expect given the more northerly latitudes, although it's not been a month to remember for most areas.
Resorts like
Marmot Basin
and Sunshine in Alberta both reported 25-50cm accumulations over the past week, most of it last weekend. Other areas have had some snow but not really enough to open much yet.
The first resorts in BC have opened though,
Sun Peaks
and
Cypress Mountain
among them with the big one,
Whistler Blackcomb
, set to join the party. Over on the East, it has been drier and warmer than usual and a real struggle for any areas to open yet. Just a couple have a short run or two skiable mostly thanks to snow-making.
Several more Canadian areas do plan to open this weekend though, from East to West Coasts, with winter nearly upon us. It is looking cold across the country's ski slopes over the next week, not getting above freezing, but there's not a lot of snow in the forecast, just the odd shower here and there over the next seven days.
USA
US ski areas have definitely been struggling to open for the season so far this autumn, with several having to postpone planned starts before the Thanksgiving long weekend, now underway, to early December.
Last weekend most of the 10 ski areas that had opened across the country were in Colorado (and even here some like
Beaver Creek
have delayed), with just
Killington
in Vermont and Mammoth in California the only other two open.
Things are changing by the hour but it looks like around 40-60 ski areas will be open this weekend, with the first in states like Utah (Brighton, America's largest
Park City
and
Solitude
among the first, all having previously delayed planned openings last week) and New Mexico opening.
The good news is that there does seem to be something of a change in the forecast, if not yet a wholly convincing one, with cold weather allowing snowmaking systems to fire up in the Midwest and East and some natural snowfall in the West, at least in The Rockies and mountains like The Cascades, not so much in California where delayed openings are ongoing.
Unfortunately, the final week of November looks to be largely dry, perhaps with some snow showers in the East, but it should at least be below freezing overnight in many ski areas.
Keep your fingers crossed... and we're back with you next week...