J2Ski Snow Report 16th December 2021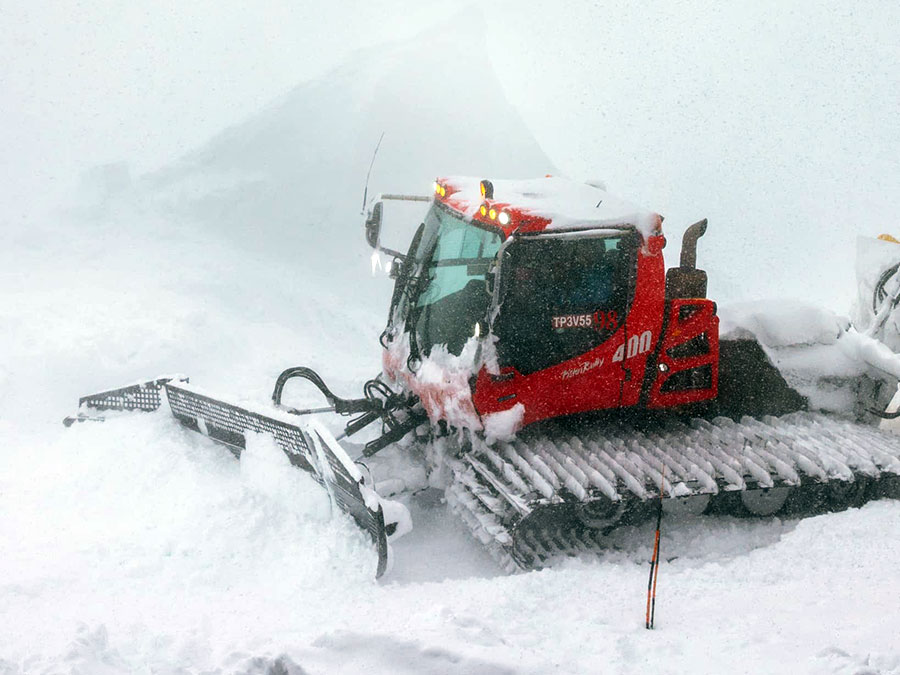 Mammoth Mountain got hosed this week...
Powder for America, as the sun comes out in Europe
The Snow Headlines - 16th December
- Snowfall at last across most of North America.
- Austria and Slovakia end quick lockdowns meaning ski resorts can open in all countries.
- Huge snowfalls in the Alps and the Pyrenees lead to 'best start in years' claims.
- Big snowfalls at last after warm dry Fall on North America's Pacific coast.
- High avalanche danger in Western Alps and Pyrenees follows massive snowfalls.
- Most of Scotland's ski areas open for the season.
- Excellent conditions for the season start in Eastern Europe.
In less welcome news for UK skiers; France locks out holidaymakers... for now...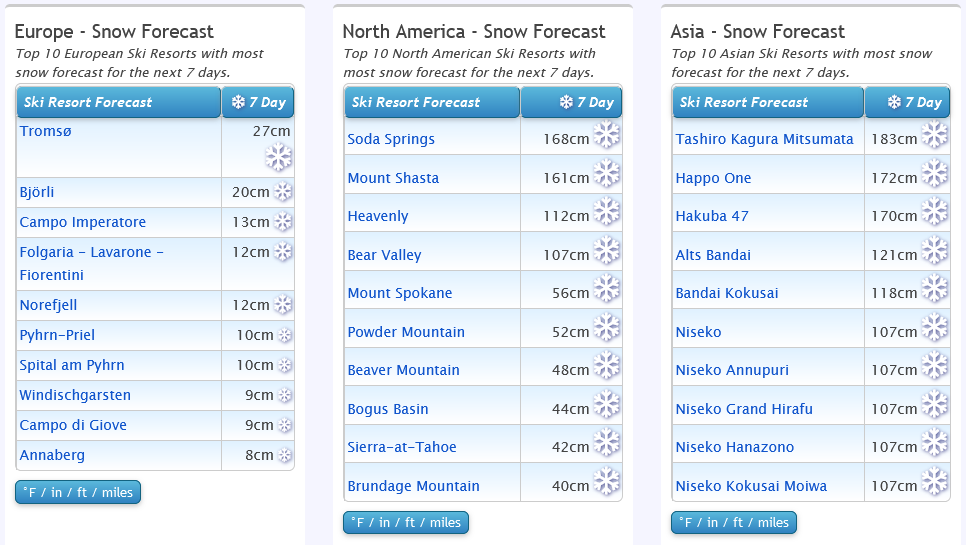 Snow inbound for America and Japan...
Re-publication :- our Snow Report Summary, being the text above this line, is free to re-publish, but must be clearly credited to www.J2ski.com with text including "J2Ski Snow Report" linked to this page - thank you.
World Overview
Europe
As far as snow is concerned, the season is getting off to what some are claiming the best start this century in the Alps and the Pyrenees after huge snowfalls at the end of last week gave way to clear skies and sunshine this week.
Bases have reached up to 3 metres (10 feet) already, unusual for mid-December, after up to 1.4 metres (nearly five feet) of snowfall at the end of last week. The snow did of course cause access and avalanche danger issues but these have since stabilised.
In further good news both Austria and Slovakia, the only two countries that had been limiting ski area openings in short-term late-November lockdowns announced that resorts could open to tourism. This means that for the first time since March last year, all ski areas can open and most now have; the rest set to join them this weekend.
Travel does remain an issue of course with most countries operating ever-stricter testing regimes with vaccination certificates required by many. France today announced restrictions on travel from the UK.
Elsewhere in Europe countries on the eastern side of the continent have also been opening with deep snow bases after pre-season falls and four of Scotland's five centres managed to open some limited terrain at the weekend.
North America
It has been the best week for some time across North America with most of the continent's main ski regions seeing some decent snowfalls.
The headlines have been taken by the Pacific Coast where ski areas have gone from being the most impacted by the previously lacklustre fall weather (dry and warm) and been dumped on over the first half of this week to such an extent that resorts have gone from being unable to open for lack of snow to being unable to open due to there being too much of it!
Up to 7 feet (2 metres) has fallen in some places causing logistical issues and extreme avalanche danger. But that's now being mitigated and resorts are opening with instant good bases. There's been snow for the Rockies and the east, greatly improving things but some centres still have catching up to do.
Europe
Austria
There's a big sigh of relief in Austria as the government announced, almost as soon as we sent out last week's report, that ski areas would be able to re-open to tourism from last Sunday after the country's three-week lockdown ended.
Ski areas in Tirol did so almost straight away but other regions like Carinthia and Salzburgerland will do so at the end of this week. The re-opening announcement coincided with some great snowfalls (although in some cases accompanied by stormy conditions at high altitudes). So when resorts did re-open it has been with superb pre-Christmas early-season skiing at most, with fresh, deep snow and blue skies.
If Omicron wasn't hanging over everything it would be complete perfection! Austria's rules remain strict with only vaccinated or recovered people allowed to ski.
France
Conditions are superb in France after huge snowfalls in both the French Alps and the French Pyrenees.
The volumes of snow were causing issues at the end of last week with many resorts warning of high avalanche danger both on access roads and up on the slopes. This led to terrain closures on Friday and Sunday. The skies began to clear at the start of the new week though, with excellent conditions and fresh snow.
Most of the country's leading ski areas are now open with the remainder due to follow this weekend.
Alpe d'Huez
and Tignes/Val d'Isere are both currently reporting the most terrain open, about 150km of ruins each.
Italy
Almost all of Italy's ski areas are now open – a higher proportion than the other major Alpine nation – although pretty much everywhere is expected to be open from this weekend. Conditions are reported to be good for the time of year across the country.
Val Garden is posting one of the largest amounts of terrain open anywhere at the moment ahead of them and
Alta
Badia hosting upcoming World Cup racing.
Snow depths are also fairly good to very good across Italy, with the most fresh snow and deepest bases in the Alps on the Western side of the country.
Switzerland
Sublime conditions in the Swiss Alps too after plenty of snowfall at the end of last week and again skies clearing now.
Engelberg has the deepest reported base in the Alps, approaching 3 metres and the cross-border areas of Samnaun-Ischgl and Zermatt-Cervinia are posting the most terrain open of any ski areas in the world at present – about 200km of runs each. The 4 Valleys with 155km makes three Swiss entries in the world top four.
Most of the country's leading ski areas are now open for the season. Currently, the weather here looks like it will stay sunny at least to the middle of next week.
Scandinavia
All of Scandinavia's larger ski centres are now open but there's not quite the snowy abundance here as there is in the Alps, so far at least.
Although snow depths and quality are good to the north, the cover is thin and terrain open limited at more southerly latitudes in the region. The biggest resort Are, so far has less than a quarter of its terrain open, although that will no doubt increase for Christmas week.
Pyrenees
Like the Alps, the Pyrenees have had a remarkable week or two of heavy snowfall and are also reporting superb conditions as the main season begins. Ski resorts reported up to 1.5m (five feet) of snowfall at the end of last week which caused avalanche danger levels to hit 4 on the scale to 5 and several smaller resorts to close for a few days while things were made safe.
Others, like Baqueira Beret, dropped from having 130km of runs open to just 7km on Sunday whilst slopes were secured. Now the sun is back out, resorts in the region are posting some of the deepest bases in the world at present, and it is definitely looking good for the season ahead.
Scotland
Scotland's ski centres seemed to almost surprise themselves by opening last weekend. After a few weeks of cold and snowy weather, centres had a good snow covering but not to a great depth, however.
Glenshee announced late Thursday it would open last Friday for the weekend and then
Glencoe
, Cairngorm and the Lecht which had previously said they probably wouldn't open, decided they would too.
Most have closed again midweek as unfortunately there's been a big rise in temperatures to +10-12C which clearly isn't good news for the thin cover, but currently most plan to open from this weekend for the season, probably making use of their all-weather snowmaking machines.
Eastern Europe
Conditions are looking good in much of Eastern Europe where all of the region's leading resorts are already open or, in the case of a number remaining including the largest, Bulgaria's
Bansko
, opening this coming weekend.
Some centres, including Serbia's
Kopaonik
, have posted huge pre-season snowfalls and even those not quite so blessed seem to have had some decent early snowfalls.
Slovakia, which had had a very short sharp lockdown announced ski areas could re-open at the end of last week so centres there, including the largest - Jasna, are all now open.
North America
Canada
Canada's Alberta and Eastern BC have had the best early season conditions in North America for over a month now and with another foot (30cm) of snow reported in the past week, there's no sign of that changing much.
Ski areas including lake Louise and Sunshine near
Banff
still have the country's deepest bases and the most terrain open in North America although
Alyeska
in Alaska has overtaken them for the deepest snow in North America. It's an improving picture elsewhere in BC and further east in Quebec and
Ontario
.
All these regions seem to still be running behind with only limited terrain open but they have been reporting plenty of snowfall in the past week and mostly cold weather (although there was a warm-weather 'blip' on the East on Wednesday) so a gradually if not rapidly improving picture.
The continent's largest ski area at
Whistler Blackcomb
is reported to have about a third of its terrain open so far and nearly 2 metres of snow lying up in the alpine, but still very thin cover down in resort.
USA
It is looking much better in the US than seven days ago (and during the six weeks before that).
In the Rockies, ski areas have reported up to three feet (90cm) of snowfall (
Crested Butte
and
Wolf Creek
); there's been a lot of snowfall in New England and other Eastern states too.
The big snowfall headlines come from the Pacific Coast though where the Palisades reported five feet (1.5m) of snowfall at its base on Wednesday and most other ski areas in California reported at least four feet of snow.
This of course caused problems opening as slopes needed to be made avalanche safe and access roads cleared as well as lifts dug out.
With many areas running two to four weeks behind their planned opening dates and Christmas just around the corner this was done with maximum alacrity and a swathe of resorts announced opening dates over the past few days, or at the latest this coming weekend.
Pretty much everywhere should be open for the run-up to Christmas from Saturday. But things are not yet quite perfect. Things are so far behind what they should be many areas remain on catch up, so while it's a much better picture, it's not yet back to business as usual.
The country's largest ski area,
Park City
in Utah, for example, says it still has less than 20% of its huge ski area open and that the valley run remains closed for now.