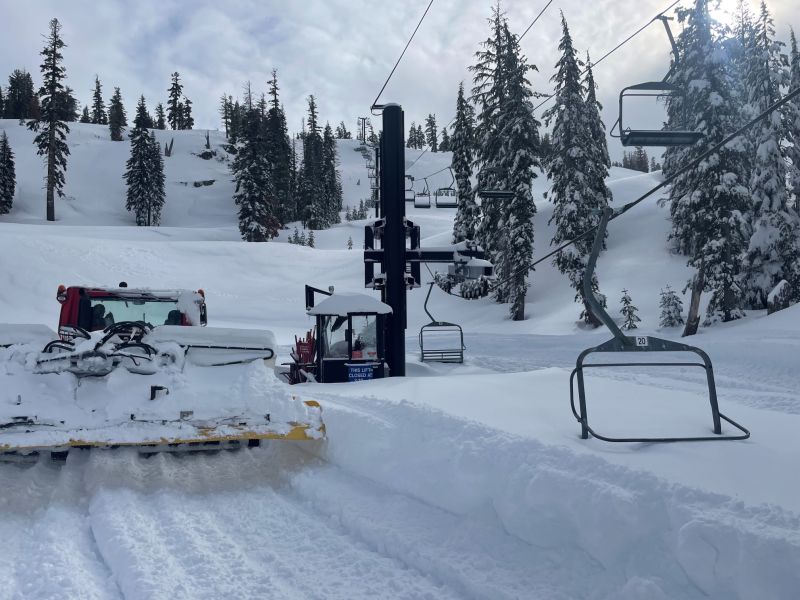 A number of December snowfall records have been broken in California.
The Palisades ski area by
Lake Tahoe
has reported its all-time snowiest December, with 199 inches (503cm) of snowfall so far.
What's particularly remarkable is that all the snow has fallen in the latter half of the month, the region was suffering a warm, dry November and early December which had forced many resorts in the region to stay closed beyond planned opening dates. Some have only finally opened over the past few days.
Mammoth Mountain, which has managed to stay open for two months already since late October when many others couldn't, now reports the world's deepest snowpack at 15 feet (4.5 metres).
Ironically all the snowfall caused ski areas in the region to close, after they had been forced to close for lack of snow before.
The snowfall, which has arrived in two major snowstorms over the past fortnight, blocked access roads for days, buried lifts, set avalanche danger levels to maximum and was at time accompanied by warm wet weather, then very cold weather that coated machinery in ice and at times wind speeds kit 120mph and visibility zero. It has been a major effort by resort staff to get centres safe to open.
The good news is the coming weekend is looking like a powder perfect start to the New Year.
The weather extremes are being seen across the US where generally its an improving picture but some centres on the east coast and Midwest are still unable to open or have been forced to close again, due to warm, dry weather. For some in states like Ohio and West Virginia December 2021 will be the warmest and driest on record.