J2Ski Snow Report 3rd March 2022

Ax 3 Domaines, France at the end of the day...
Spring approaches with sunshine and more snow for many places.
The Snow Headlines - 3rd March
-
Revelstoke
passes 9m/30 feet season snowfall to date.
- Two feet of snowfall in Bulgaria.
- Fresh snowfall across North America.
- Two years since Italian ski centres were the first to go into pandemic lockdown.
- World's 'spring skiing capital' Riksgransen in the Swedish Arctic Circle opens for 2022 season.
- Improving picture in Scotland with more and more terrain open as snowpack builds.
- Oregon's
Timberline
, aiming to stay open to September, hits 4m snowpack, continent's deepest.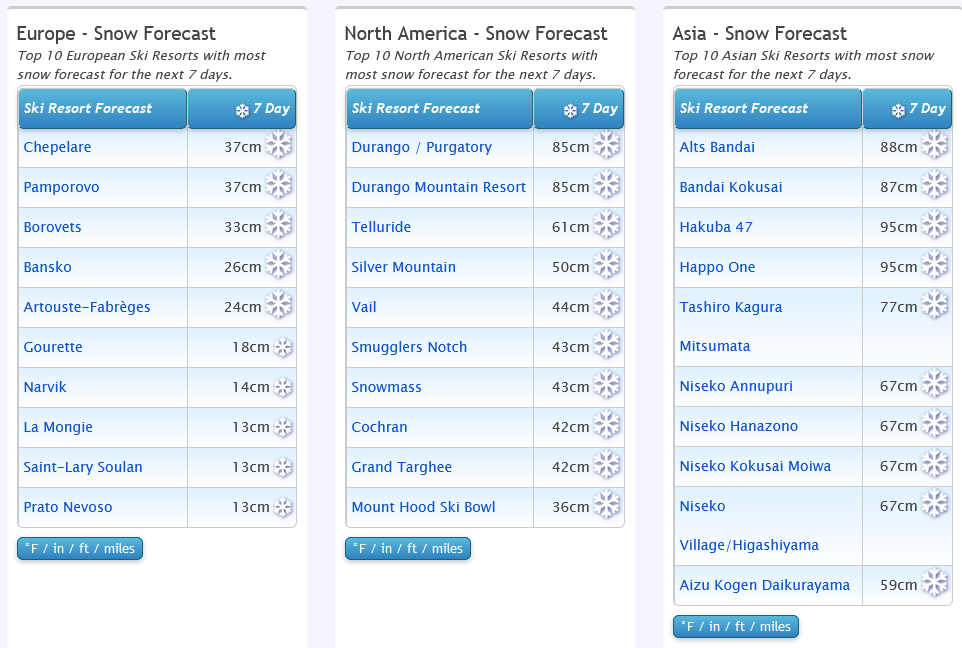 More snow in the forecasts, worldwide, but watch this space for Europe - there's more on the way...
Re-publication :- our Snow Report Summary, being the text above this line, is free to re-publish, but must be clearly credited to www.J2ski.com with text including "J2Ski Snow Report" linked to this page - thank you.
World Overview
Europe
It has been a gloriously sunny week for most of the Alps as we enter springtime (by the meteorological measure) of the seasons.
Fortunately, it has stayed fairly cold, especially above 1500m, so the snow on the groomed slopes remains in good condition for most of the day. Sunny too in the Pyrenees although here clouds and light snowfall have been moving in in the past few days.
The biggest snowfall of the last seven days has been in Bulgaria, with
Bansko
reporting a 60cm fall to start the week whilst Scotland's ski slopes probably take the prize for 'most transformed; with two of the five areas now fully open for the first time this season and the remainder not far behind.
North America
A bit of a weather rollercoaster across North America, particularly the US, where welcome periods of snowfall are being punctuated by some record high temperatures, unfortunately.
The result in some areas, particularly the Pacific Northwest, is very high avalanche risk in the backcountry.
But the overall picture remains positive for the start of March with fairly decent snow depths almost everywhere, most of the continent's ski slopes open and in good shape and more fresh snow falling in most areas.
Europe
Austria
The main news from Austria this week is probably the further easing of pandemic restrictions from this Saturday 5th March, making travel there and day to day life in resort that bit easier, if not yet 'normal' again.
As to ski conditions, there's been no fresh snowfall to speak of in the past week and conditions have been decidedly spring-like with most areas seeing wall to wall sunshine, often using social media to point out that the mountain slopes have been out in the sunshine when valleys below have been filled with cloud.
Things are starting to change now with more overcast skies and snow forecast. All areas are more or less fully open with the big areas like the
Arlberg
, Saalbach and Skiwelt each reporting around 240km (150 miles) of open slopes.
France
Like most of the Alps, French resorts have been enjoying fabulous sunny weather once again for the past week.
This is starting to change with a front moving in from the southwest bringing snowfall, initially to more southerly resorts like
Alpe d'Huez
and
Serre Chevalier
but expected to spread across most areas by the weekend, bringing light to moderate accumulations.
As we start March, conditions are good across most French ski areas, with decent snow depths (typically 1-2 metres) leaving them in a strong position to see out the season and most with at least 90% of their terrain open. As with everywhere in the Alps though, there's not a huge amount of fresh snow to be found off the groomed slopes.
Italy
Italy is always a popular destination for spring skiing and another week of sunshine has helped to usher in a more relaxed atmosphere on the slopes.
Cortina is getting excited that it is now the next Winter Olympic host and the first in Western Europe for 20 years.
All Italian ski areas remain fully open this winter and though snow depths could certainly be better for some, there looks to be enough here too to see out the season. Cervinia has also announced its June to September 2022 summer skiing dates.
Switzerland
Swiss slopes have enjoyed about 10 days now of nearly non-stop sunshine with temperatures above 2,000m dropping to -25C below freezing at the start of this week although they're now getting back up closer to zero and rising above by the afternoon.
The low temperatures have kept snow on the pistes nice and crispy and dry, although with little or no fresh snowfall for well over a week now the freeriding opportunities are very limited.
But despite the fact that limited snowfall this winter means we are not seeing the 5 or 6-metre base depths we usually expect at some areas by the start of March, with numbers typically about half that, most Swiss ski areas are fully open and looking good for the final month or two of the season.
Scandinavia
Scandinavia is entering the spring skiing period when it has a number of advantages over many ski areas in the Alps, including lower temperatures thanks to its northerly latitude and longer daylight hours, from the spring equinox on in just over a fortnight.
Most ski areas in the region have posted fresh snowfall in the past week with Western Norway continuing to see the deepest snowpack and heaviest falls. The famous resort of Riksgransen up in the Swedish Arctic Circle, the only resort to keep operating throughout the pandemic, opened for its 2022 season at the weekend.
There should be midnight skiing and boarding under the midnight sun when 24-hour daylight returns there by early May.
Pyrenees
There had been a week or so of straight sunshine, once again, in the Pyrenees, but the past few days have seen cloud cover roll in and some light to moderate snowfall improving slope conditions.
The deep bases that have been built here since back in December remain in place and it's looking good for the final 6 to 8 weeks of the season with the snow more than 1.5 metres deep at most areas and almost all fully open too.
Scotland
It's still an improving picture on Scottish mountains with more wild weather over the past week including reports of blizzard conditions, wet snow and 100mph gales at times, but overall the direction of travel continues to be good with more snow piling up than thawing and an increasingly promising picture for the start of spring.
Glencoe
and
The Lecht
are posting the most terrain open, with the deepest base at Glencoe, but the other three Highland centres all have more runs open and appear in increasingly good shape.
Eastern Europe
It has been quite the week in Eastern Europe with plenty of fresh snowfall as temperatures dropped to start this week.
In Bulgaria, Bansko reported a remarkable 60cm (two feet) of fresh snowfall on Sunday/Monday giving incredible powder conditions for the start of spring.
North America
Canada
A fairly dry week in Western Canada with temperatures staying around freezing or below. Revelstoke in BC marked a seasonal milestone hitting 901cm for 21-22 season snowfall to date – just over 30 feet. It's usually among the top 20 for snowfall quantity worldwide each winter of the better-known resorts, often top 10.
Across the Pacific, some Japanese ski areas are already past the 12 metres (40 feet) of snowfall to date.
There has been some fresh snowfall in Alberta and BC over the past few days though with more forecast. In the East, Tremblant continues to be dumped on in Quebec and continues to post one of the deepest bases in Canada at over 3m/10 feet.
USA
A largely sunny week in the Western US following last week's snowfalls, and very warm at times too, but there is more snow in the forecast through the weekend which should provide a welcome boost to cover on the groomers and potentially some powder for freeriding although the avalanche danger remains high in many areas.
Over in the East, we've had a third successive week where a warm-weather spike of fewer than 24 hours duration between very low temps the rest of the time has brought damaging rain and thawing, although once again most areas have recovered quickly with fresh snowfall following behind and/or snowmaking.
It's similar to the picture back in December but now the cold weather is more consistent and there's an accumulated base to rely on.