J2Ski Snow Report January 19th 2023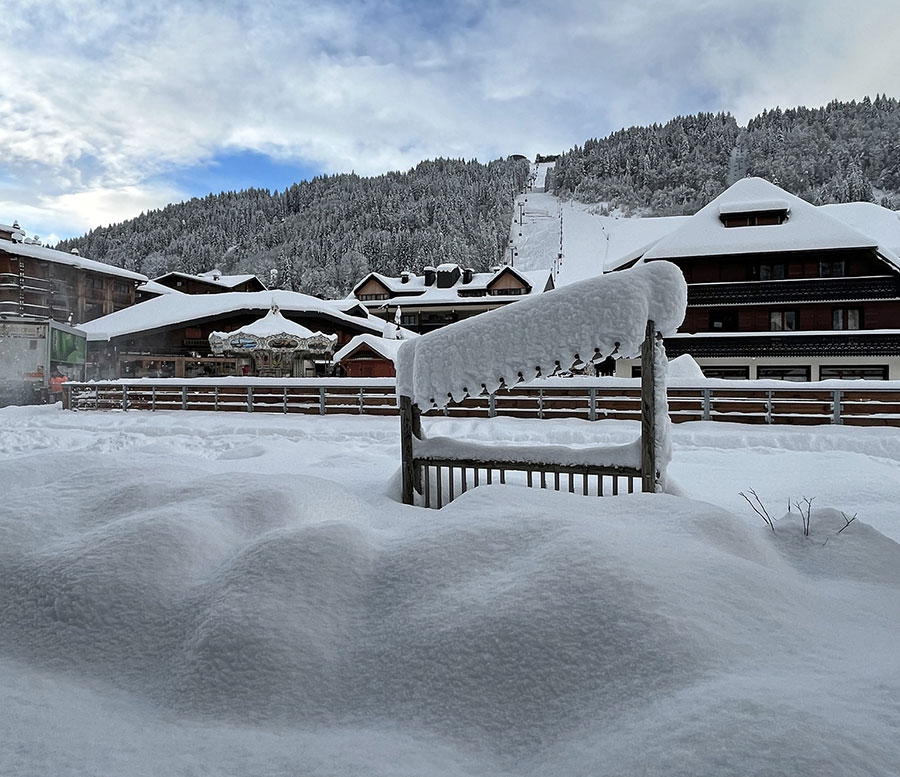 Looks like the season arrived for Morzine, France, this week...
A lot of snow in Europe and the USA...
The Snow Headlines - 19th January
- World's deepest snowpack passes 6 metre/20 feet mark in California.
- Europe's deepest snowpack passes 3 metre/10 feet mark in France.
- Bulgaria goes from no snow to hosting World Cup skiing in a little over a week.
-
Les Gets
goes from completely closed to completely open in 7 days.
- Colder weather and snowfall for the Pyrenees.
- Best conditions of season so far in Scotland as low temperatures and snowfall continue.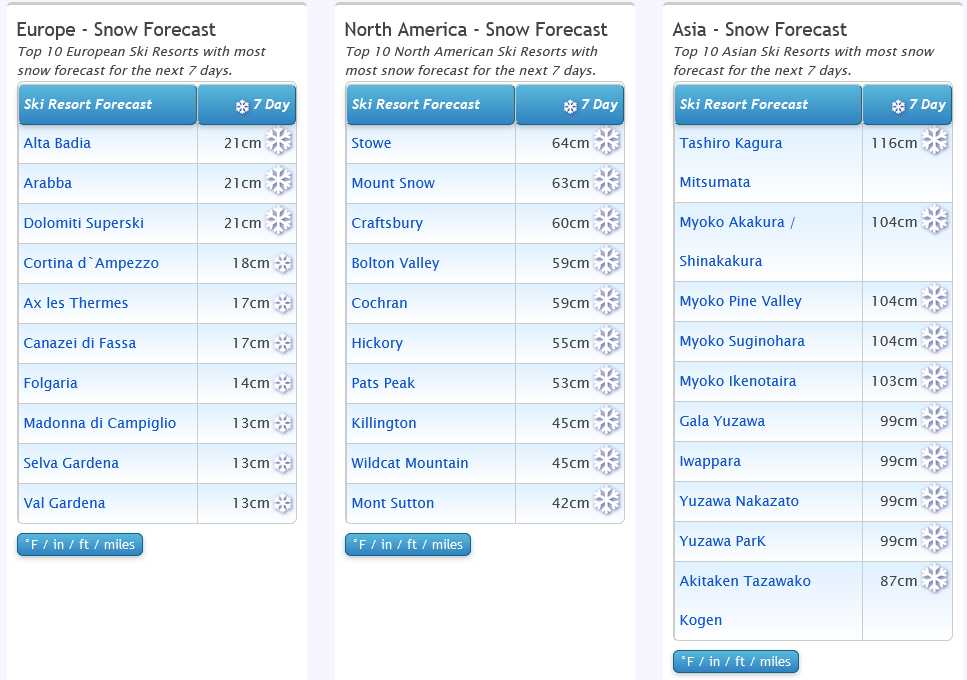 See where it's going to snow...
Re-publication :- our Snow Report Summary, being the text above this line, is free to re-publish, but must be clearly credited to www.J2ski.com with text including "J2Ski Snow Report" linked to this page - thank you.
World Overview
Although the 'no snow in the Alps' stories keep coming, there has been up to a metre of snowfall up high, and at least half that at lower elevations, which has greatly eased the snow cover problems at lower elevations (there never really were any higher up). Resorts that had had to close runs have mostly reopened them. The big issue now is high avalanche danger.
Elsewhere in Europe it's much improved too in the Balkans, Pyrenees, Scotland - and Scandinavia remains snowy.
Over in North America snowfall records continue to be broken in the west and the snow conditions in the east are improving, particularly north of the border in Quebec and
Ontario
where its finally consistently cold as it should be.
Europe
Austria
Austria has not seen the snowfalls of ski areas further west over the past few days but over the last week, most resorts have seen 30-60cm (1-2 feet) of fresh cover with lighter snowfall continuing in many areas.
Most of the big regions like Ischgl's
Silvretta
, the
Arlberg
, Saalbach and Skiwelt had been able to keep around 70-80% (perhaps 200km) of their slopes open prior to the latest snow. That remains the situation just with lots of fresh snow and much lower temperatures.
The avalanche risk is typically lower here than in France, level 2, though not everywhere (some level 3).
France
France has seen the really spectacular snowfalls of the past week with several resorts reporting more than a metre of snowfall up high in total and
Avoriaz
and
Alpe d'Huez
passing the 3 metres (10 feet) snow depth mark on their higher slopes, the only resorts in Europe to do so.
More significant is that there has been 30-60cm of snowfall for lower resorts like
Morzine
, Megeve and
La Clusaz
, allowing them to open up lots of terrain after the limitations the warm weather over Xmas/New Year created.
Les Gets went from nothing open at the start of last week to fully open and a level 4 avalanche danger warning a week later. Its
Portes du Soleil
connections have also reopened with a total 400km+ of terrain open there.
Italy
Western Italy has seen lots of fresh snow along its borders with France and Switzerland.
In the Dolomites, there's not been so much, but it has stayed cold here and there's been a good refresh of snow cover. Most areas are in good shape with Dolomiti Superski's slopes close to fully open, the Milky Way running at about 70% open at the time of writing.
Switzerland
Switzerland has had plenty of snowfall too, the heaviest in the west. It means there's powder once more in areas famed for it, like the 4 Valleys, which reports its slopes up from 70 to 90% open. Some low-lying and/or south-facing resorts like
Gstaad
and Crans Montana are in much better shape with snow to low levels and in Crans's case, a metre of new snowfall up high.
As with the rest of the western Alps, the fresh snowfall has also brought increased avalanche danger risk to 'considerable' or 'high' (3 or 4). It's cold in Switzerland too with temperatures well below freezing.
Scandinavia
It's been cold and snowy for another week across much of Scandinavia.
Myrkdalen ski area near
Voss
, famous for its powder, has overtaken
Hemsedal
to become the snowiest resort in the region after more than 50cm (20") of snow there this week. Not quite so much elsewhere, but most Scandi resorts are fully open with fresh snow and rapidly increasing daylight.
Pyrenees and Spain
It's good news in the Pyrenees and other parts of Spain too after a warm and dry month in the region. Most resorts posted 15-30cm of fresh snowfall and powder conditions on Wednesday, not only bringing a big improvement in snow conditions but also the amount of terrain open with biggest resorts Baqueira Beret in Spain and
Grandvalira
in Andorra both going back above 100km of slopes open and hopefully more on the way.
Sierra Nevada in the south reported 15cm of fresh snowfall on Wednesday.
Scotland
A cold and snowy week in Scotland with all five centres open and with the most terrain open at each since the height of last season.
Glencoe had almost all runs open with Cairngorm about half of theirs and reported 15cm of fresh snow on Wednesday.
The Lecht
was cut off for the day with its access road blocked by snow.
Unfortunately, there are signs of rising temperatures from early next week, but it's unclear how warm it will get and how much damage may potentially be done to snow cover.
Eastern Europe

A big improvement in conditions for ski areas in more southerly parts of eastern Europe.
Kopaonik
in Serbia reported blizzard conditions on Thursday and cold sometimes snowy weather in Bulgaria means
Bansko
has gone from almost nothing open to being able to host World Cup competitions this weekend.
Further north it has been snowing heavily at Jasna and across the Czech and Slovak Republic's ski regions.
North America
Canada
It has been a fairly dry, cold week in Canada, although with some light snowfall reported, heaviest in the West. Over in the east, in Quebec, it has been more consistently cold so conditions are by far the best they've been of the season so far there.
Whistler has reopened much of its terrain after storm closure and has reached the 2m base mark on its higher runs.
USA
Records seem to be constantly being broken in the Western US as storm follows storm, with just brief respites of sunny, still weather in between, particularly along Pacific coast mountains.
Mammoth's upper slope depth has gone through the 5 and then 6 metres (20 feet) mark in the last week and more and more resorts in California and the Utah Rockies have reported going through the 400 inches (10 metres) season-to-date snowfall mark.
For some, this is now the snowiest winter in nearly two decades. All the snow is a mixed blessing – obviously great in the long term and for powder skiing where safe but constantly digging out and making things practical and safe for skiers and boarders is an ongoing battle for the resorts with lots of enforced closure periods.
No such problems on the east coast where things remain below par due to warm weather and limited snowfall, but another front should bring a few inches more at the weekend.