Add your Ski Site to the J2Ski Directory and Ski Resort Pages
J2Ski are delighted to support the Independent Skiing community with our Ski Site Directory.
Basic Listing is FREE for all Independent and Specialist providers of services and information to the Ski and Snowboard community.
If you think J2Ski is useful (we kind of hope that's the case!)
Please consider offering our information to your visitors by showing them a link to us. It's only fair, and when it gets really busy we do prioritise link requests from ski sites who have taken the time to return the favour.
So what do you get (for free!)?
A free listing for a website in the J2Ski Directory can be seen below ...
For a much higher level of exposure and effective advertising throughout our site, please see our Advertising Options.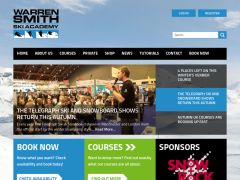 Warren Smith Ski Academy
The respected Warren Smith Ski Academy, based in Verbier, brings together some of the sports top professionals to create the ultimate coaching team.
To get your website listed in the J2Ski Ski Directory...
Winter Sports Sites only please - no exceptions - thank you.
Step 1 - Check our Terms
Make sure you're happy with our Advertising Terms.
Step 2 - Create your J2Ski Account
Go to the J2Ski Account Creation page.
Step 3 - Send us your Request
Login to your J2Ski Account and in My Profile you'll find a simple form to request your Directory Entry.
Please note that your Directory Entry will not be visible until it has been approved by a moderator, and processed by our system. This will usually be done within 24 hours but may take longer when we're off skiing...
Please Note (one final time):- Inclusion is at our sole discretion, and we will only include sites of genuine interest to our visitors.