Private Ski Instructors and Mountain Guides in Megève, France
Prefer Group Lessons? Find Group Lessons

Find and book independent instructors in Megève with Maison Sport
Independent ski and snowboard instructors often go the extra mile to delight their customers, always ensuring their customer's experience is a great one. Choose from over 500 ski and snowboard instructors across 200 ski resorts on Maison Sport.
2,000+ unique instructor reviews.
94% of customers rate their instructor 5 stars.
Choose an instructor that suits you.
Book and pay securely online.
Megève Ski Instructors
Ski Instructors and Mountain Guides in the French Ski Resort of Megève.
The following links to Ski Instructors in Megève are provided for information, and the sites linked are not endorsed or guaranteed by J2Ski.
Ski Schools and Snowboard Training - Megève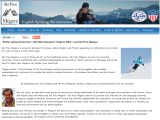 Ski Pros Megeve
Skiing is a fun learning experience, with a private English speaking instructor you can make the most of the best snow conditions offered and without delay.